All-Time Winningest Coach Pat Summitt: 'It Was Really A Great Ride For Me'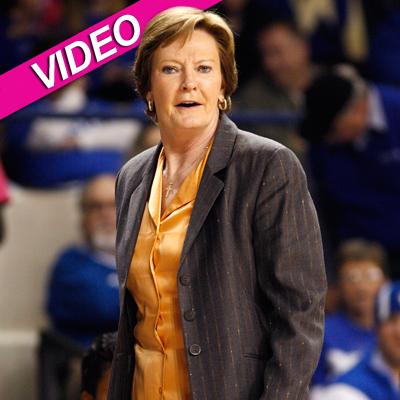 Legendary Tennessee women's basketball coach Pat Summitt stepped down from her post because of her battle with Alzheimer's, and said her career was "a great ride."
Summitt addressed the masses in a news conference at the school Thursday and RadarOnline.com has the video.
Her assistant Holly Warlick was promoted to head coach, while Summitt, who coached the Lady Vols for 38 years, was named head coach emeritus.
Article continues below advertisement
"I just felt like it was time for me to step down knowing that Holly was going to be in great hands," Summitt said.
"She's a great coach and you know I'm going to continue to support her. It's never a good time, but you have to find the time that you think is the right time and that is now."
The 59-year-old -- owner of the most wins in NCAA college basketball history -- will be given the Presidential Medal of Freedom later this year, as she's been lauded by President Barack Obama for speaking "so openly and courageously about her battle with Alzheimer's."
Summitt calls the forthcoming award "a tremendous honor."
Coach Summitt bravely revealed that she'd been diagnosed with early-onset Alzheimer's in August, 2011.