Exclusive
The Situation Advised To Have Sober Living Companion While Shooting Jersey Shore This Summer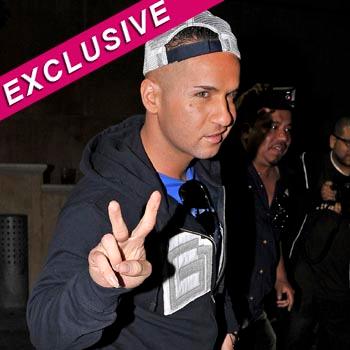 Mike "The Situation" Sorrentino of MTV's Jersey Shore has been advised by his medical doctors to have a sober living companion with him at all times when he begins filming this summer in Seaside Heights, RadarOnline.com is exclusively reporting.
Sorrentino, who was battling an addiction to prescription pills, recently completed a residential treatment program at the Cirque Lodge in Utah and claims he is back and doing great.
Article continues below advertisement
As RadarOnline.com first reported, Sorrentino voluntarily checked himself into the world famous rehab center for several weeks, and while he's admitted to excessive use of Xanax and Ambien, he didn't mention any other drugs upon admission.
The Situation is scheduled to begin filming the new season of Jersey Shore in June, and his "doctors at Cirque Lodge advised him that he should have a sober living companion with him at all times when he is in Seaside Heights. The sober living companion would have to move into the Shore house along with the other cast members. The companion wouldn't need, nor want to appear on camera, but putting Mike back into that world without a strong support system around him is asking for trouble. Mike doesn't think he needs someone to be with him and essentially be a babysitter, and this has his doctors extremely concerned for his sobriety and recovery," a source tells RadarOnline.com exclusively.
Meanwhile, reports that MTV wants to replace The Situation and Snooki "are absolutely false. Snooki probably won't be filming for the entire summer because of her pregnancy, but she will definitely be there for a big chunk of time. MTV has told Mike they have no plans to replace him and told him he is welcome to come back. MTV also conveyed to his camp that they would fully support a sober living companion, or any other recommendations his doctors have. MTV is extremely supportive of Mike's sobriety," the insider tells us.