Exclusive
Joe Eszterhas Reaches Out To Mel Gibson's Baby Mama, Oksana Grigorieva!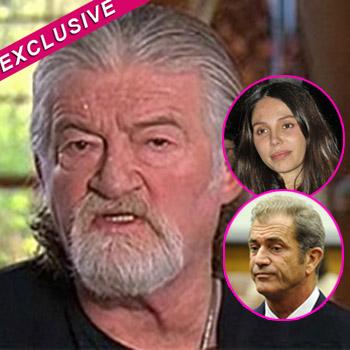 By Jen Heger - RadarOnline.com Assistant Managing Editor
Hollywood screenwriter, Joe Eszterhas, who endured the wrath of Mel Gibson during a bizarre, insane screaming rant has been in touch with the actor's ex-girlfriend, and baby mama, Oksana Grigorieva, RadarOnline.com is exclusively reporting.
As previously reported, new audio recordings of Gibson engaged in an epic meltdown have emerged which were allegedly recorded in Costa Rica last December by Eszterhas' son, Nick, in which the devout Catholic can be heard screaming, "f**king c**t" amongst other profanities.
Article continues below advertisement
The latest Gibson rant surfaced about two years after Mel was caught in a series of violent voicemails threatening to kill his then-girlfriend Oksana Grigorieva, which RadarOnline.com exclusively obtained. Eszterhas alleges that Gibson also threatened to kill Oksana, or have his FBI buddies do it for him.
"Joe has been in contact with Oksana's civil attorneys to discuss the threats that Mel made against her. Oksana hasn't decided yet what legal action if any she plans on taking against Mel, her main concern is their daughter, Lucia, as it always has been," a source close to the situation tells RadarOnline.com exclusively. "Joe has been extremely honest and forthright with Oksana's legal team. Oksana was extremely saddened to learn that Mel seemingly hasn't changed. While Mel has never hurt their daughter, she doesn't want Lucia in an environment that is obviously so toxic."
During his custody battle with Oksana, Gibson was diagnosed with a severe bipolar disorder and rage issues, a source close to the actor tells RadarOnline.com exclusively. Mel began taking psychiatric medication to cope with his anger issues and he was seeing a psychiatrist during the custody battle and that was how he was able to hold it together.
"It's clear to me from listening to the recently released tapes that he most likely isn't taking his medication, which is sad because when he was taking it he was so much calmer and rational," the source told RadarOnline.com.
MORE ON:
Oksana Grigorieva
Article continues below advertisement
Gibson was ultimately charged with misdemeanor assault for allegedly hitting Oksana, and he pleaded no contest, and he remains on probation for the next two years.
According to the Mayo Clinic, people suffering from bipolar disorder can experience poor judgement, rapid speech, aggressive behavior, agitation, and irritation. The disorder can be treated with medication.
In the shocking new recording, Gibson blows a gasket during a disagreement with Eszterhas, who was at the Hollywood actor's Costa Rica vacation home. In the audio, which was obtained by The Wrap, Mel is heard screaming, "I go to work, you're getting paid, I'm not! S**t! I am earning money for a filthy little c**ksucker who takes advantage of me! Just like every motherf**ker!"