Mel Gibson Justified Taped Rant, Admits To 'Temper' On 'Tonight Show'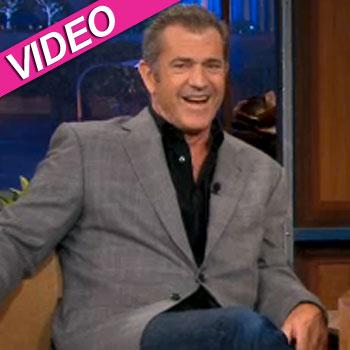 Mel Gibson did his best to make light of his most recent taped outburst, where he threatened screenwriter Joe Eszterhas and his baby mama Oksana Grigorieva, during an appearance with Jay Leno Friday night.
As RadarOnline.com has been reporting, Gibson completely lost it as he sat down to dinner with Eszterhas at the actor's Costa Rica home. The screaming and ranting so upset Eszterhas' son, who was there with his dad, he ran a tape, which the famed screenwriter later released to The Wrap.
Article continues below advertisement
Gibson was upset with Eszterhas over the state of his script for The Maccabees, a film Gibson hoped to make, but his rage also extended to Grigorieva who he called a "filthy little c**ksucker."
Leno never asked Gibson about his latest threats against Grigorieva and let Gibson justify his rant against Eszterhas. The actor claimed he was simply upset that Joe hadn't delivered an acceptable screenplay in "14 or 15 months" of working on it. He also claimed that Warner Bros. had "rejected" the script.