Lisa Rinna Wears Adult Diapers… On The Red Carpet!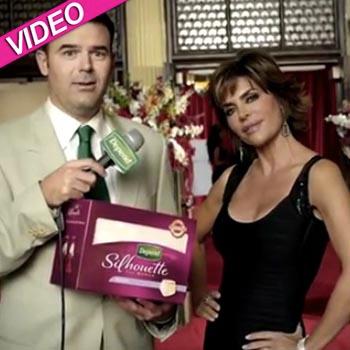 Article continues below advertisement
"I am a champion for positive self image for women," she said. "What I love about the new Silhouette is it makes a woman feel confident and it's fashionable."
The former Celebrity Apprentice contestant's hunky husband Harry Hamlin weighed in on the subject. "She was poured into that dress," he said. "You can't even tell she's wearing it. I have to do the touch test, I can't even feel it."
Lisa is wearing the diapers for a good cause – in return for her endorsement Depend pledged to donate a whopping $250,000 to her fave charity Dress for Success!
"Check out the boo-tay!" Lisa exclaimed while showing off how her curvy bottom still looks good even while wearing a diaper.
Depend is updating their marketing campaign, going from aging adults playing golf to hiring the Days of Our Lives actress to showcase their diapers and Lisa said she's shaking things up for the brand.
"While the whole concept of adult diapers might provide giggles to the young'ens, it's no laughing matter and luckily, these panties… are definitely NOT our grandmother's diapers! Harry says soon they'll have rhinestones!" she quipped.