Above The Law Kiefer? Sutherland Puffs Away Despite Santa Monica Smoking Ban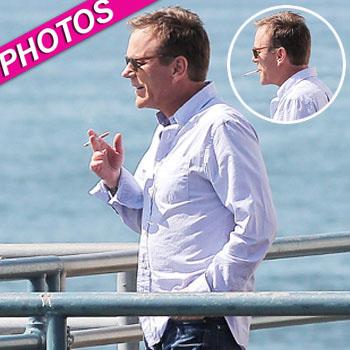 Kiefer Sutherland better brush up on local laws before he lights up!
The Touch star, who is a longtime smoker, lit up a cigarette and puffed away while shooting an episode of his television show on the Santa Monica Pier – even though smoking is prohibited there and punishable by a fine – and RadarOnline.com has photos of his violation.
Pacing around the famous tourist attraction in a button down shirt and jeans, the 45-year-old actor, who is known for his wild ways, clearly wasn't worried about being seen indulging in his bad habit, and luckily for him, he escaped a citation.
Article continues below advertisement
According to the City of Santa Monica's website, smoking is prohibited at most public attractions, specifically naming the Santa Monica Pier on their list.
If he had been busted though the fine wouldn't have put a dent in his wallet. First time offenders get away with only a $100 fine.
Sutherland is no stranger to breaking the law! The actor was arrested for a DUI in 2008 and was arrested for a "head-butting" incident in 2009.
MORE ON:
Celebrity Justice