Joel Madden: I Proposed To Nicole Richie … 10 Times!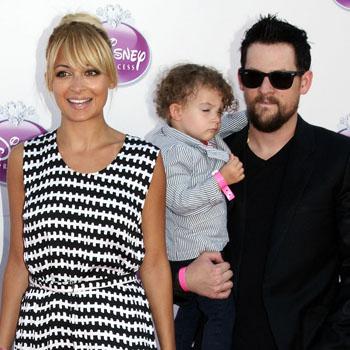 If at first you don't succeed, try, try again. And again. And again. And again. And again…
Just ask Joel Madden.
The 33-year-old Good Charlotte rocker admitted to Aussie radio show Fifi & Jules on Friday that it took nearly a dozen tries to get Fashion Star stunner Nicole Richie, 30, to agree to holy matrimony prior to their wedding in 2010.
"My wife is pretty good at rejecting me … people don't know this," he said. "But I asked her to marry me 10 times before she actually said yes -- I was asking every other Tuesday."
Article continues below advertisement
The show's host Jules Lund asked Madden, "What made that tenth one different? How did she break? What did you bring out that was different?"
"I pulled out the kids!" he said of their two daughters, Harlow, 4, and Sparrow, 3. "I said, 'Do you really wanna do this to these kids?' I'm just kidding. I'm passive aggressive."
Joel's down under promoting his new gig on the Aussie version of The Voice, where he works alongside Delta Goodrem, Keith Urban and Seal.