Joe Eszterhas Describes Mel Gibson's 'Sexual Butchery' Banter, Says He's Got The Tape To Prove It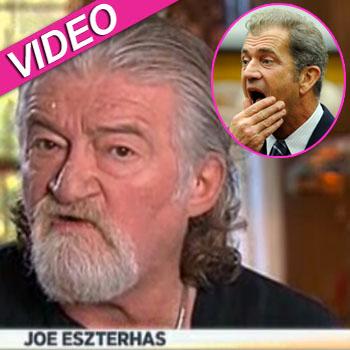 The war of words continues between Mel Gibson and Joe Eszterhas.
The veteran screenwriter (Flashdance, Basic Instinct, Sliver) appeared on the Today Show on Friday to discuss his rift with the Hollywood lightning rod made public this week when a scathing letter he penned to The Passion director leaked online, raising the same red flags that have essentially ostracized the one-time A-lister from Hollywood.
Article continues below advertisement
Eszterhas, 67, and Gibson, 56, had been working together on The Maccabees, the project about Jewish hero Judah Maccabee that Eszterhas called a smokescreen to soften Gibson's anti-Semitic reputation, as the fallen star tries to resurrect his once-thriving career.
MEL AUDIO TAPE #1: Mel's Racist Rant
The Basic Instinct screenwriter said he and his family went on an excursion to Costa Rica with Gibson, who told Eszterhas's 15-year-old son about a violent sexual fantasy he concocted starring his baby mama Oksana Grigorieva.
"To put that imagery in a 15-year-old boy's head I think is heinous, I think it's vile and I think it's unforgivable," Eszterhas said, adding he's got a recording of the "threatening harangue" and is undecided over what to do with it.
Eszterhas said Gibson's conduct "in Costa Rica was so bad, my son Nick grabbed a butcher knife from the kitchen and slept with it under his bed, he was so frightened."
Article continues below advertisement
MEL AUDIO TAPE #2: Mel Gibson Admits Hitting Oksana, Threatens To Kill Her
Asked why he continued working with Gibson, Eszterhas said he did not bring his family around Gibson from that point on, but was obligated to live up to his contract to pen the script.
Eszterhas said Gibson -- who 's been connected to anti-Semitism since his racist rant after his 2006 DUI arrest -- wanted The Maccabees to be a movie that would compel Jews to convert to Christianity.
MORE ON:
Oksana Grigorieva
"That's not The Maccabees," Eszterhas said. "It truly is a Jewish Braveheart. The piece I wrote is the Jewish Braveheart. I'm proud of it."
Asked about the he-said-she-said nature of the bad blood between he and Gibson, Eszterhas pointed out Gibson's tainted reputation, including his outlandish conduct toward Oksana as heard on RadarOnline.com's world exclusive tapes.
"I'm not the first person who has describe this behavior," said Eszterhas. "I didn't go public ... the website 'The Wrap' found my letter and then Mel denied it, and I'm not going to stand for people calling me a liar."
Article continues below advertisement