Celebrity Apprentice: Who Was Sent Home?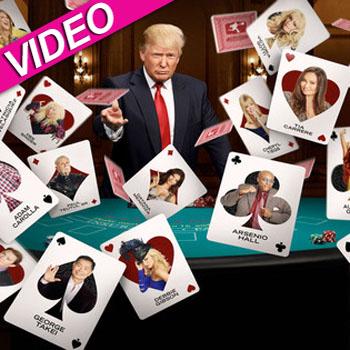 Donald Trump fired The Incredible Hulk's Lou Ferrigno Sunday, but not before the bodybuilder clashed with comic Lisa Lampanelli over remarks he claimed she made, calling him a "loser."
Here's how it all went down:
Teams headed by New Jersey housewife Teresa Guidice (Unanimous) and beauty queen Dayana Mendoza (Forte) developed a spot for the discount business Entertainment.com. (Aubrey O'Day, who walked off the show last week after a meltdown with Arsenio Hall, returned this week with a cooler head, making peace with her rival.)
Article continues below advertisement
In the end, Unanimous won, setting the stage for a vicious showdown between the queen of mean and the muscles green.
"Lisa's lucky not to be a man tonight, because I would throw her right through that wall," Ferrigno said in the boardroom. "Nobody calls Lou Ferrigno a loser!"
An enraged Lampanelli told Lou, "If you physically threaten me again, there's going to be a problem."
Ferrigno said, "I don't fight with women ... if you were a man, you'd go straight through that wall."
But when it came time to trim the herd by one, Lou couldn't muscle his way out of the guillotine after his remarks that the other team had done a better job at the task.
"There was a great disloyalty to your team," Trump told the pumped up 60-year-old.
"Take it back: I don't want to be fired," Lou told him, to no avail.
"There's nothing I can do," Trump told him.
The remaining stars in the running for this year's crown are, in alphabetical order: singer Clay Aiken, Guidice, talk show host Arsenio Hall, comic Penn Jillette, Lampanelli, Mendoza, and American Chopper's Paul Teutal.
Article continues below advertisement