Tebowmania Hits New York! Tim Tebow Is Welcomed By The Jets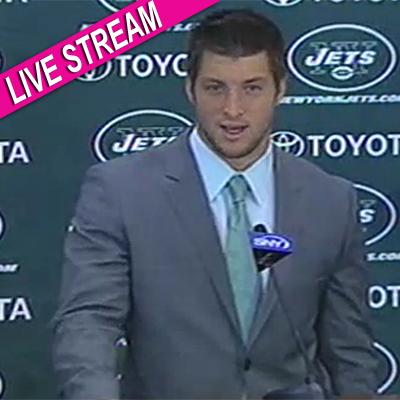 By Debbie Emery - RadarOnline.com Reporter
It's official! Tim Tebow is a New York Jet, and the high profile quarterback was welcomed by his new team on Monday in a news conference officially introducing him – and RadarOnline.com is live streaming it.
Dressed in a dapper grey suit and a green tie to match the team's colors, Tebow told the audience excitedly. "I am so excited about becoming a Jet," before thanking the Denver Broncos for his time there.
Article continues below advertisement
The announcement was described as a player "availability" to downplay the circus around the introduction of a backup player – who will start behind hunk Mark Sanchez.
As RadarOnline.com previously reported, the religious player was traded from the Broncos last week after they acquired Super Bowl champ Peyton Manning from the Indianapolis Colts.