Jersey Shore's Got Nothing On These Girls! Shahs Of Sunset's Booze Fueled Battle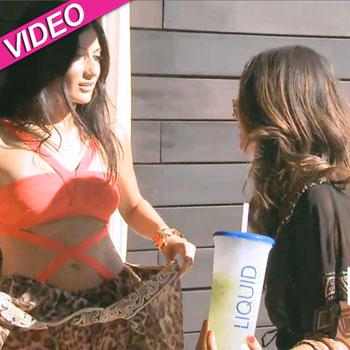 Article continues below advertisement
Mercedes and G.G. had been gossiping about Anita's dress the night before, but several hours -- and drinks -- later, the gossip turns into a poolside showdown!
"We were just girls being girls," Mercedes explains, feigning innocence, as she tries to defend herself for running her mouth, and then firmly places the blame on G.G..
"MJ's a stealth sh*t talker," Reza Farahan says about his co-star. "She gets away with it because she's really slick about it."
Anita subsequently rips into G.G. and the two scream at each other over the dress -- GG claims she bought the exact same frock five years ago and that it's old, however, Anita accuses her of not even knowing the designer.
"You wanna holler at me?" G.G. yells as the two girls get in each other's faces. "I'm gonna holler a lot f**king louder than that!!"
Watch out Snooki and the rest of the Jersey Shore cast – the Shahs of Sunset have arrived and they have just as many crazy fights as you do!