Who Says Talk Is Cheap? Check Out Rush Limbaugh's Palatial $35 Million Palm Beach Estate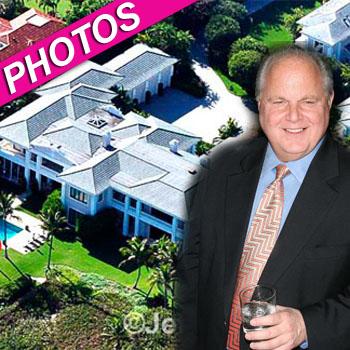 Article continues below advertisement
Unfortunately for the 61-year-old outspoken talking head, his peaceful retreat was the target of an alleged bomb scare last week when a suspicious package was found with what appeared to be wires inside.
Limbaugh called the authorities who discovered that it was just a "business opportunity," according to the Town of Palm Beach Police, reported the SunSentinel.com.
When bomb squad technicians opened the 18-inch-square package they found an electronic plaque commemorating the assassination of President Abraham Lincoln by John Wilkes Booth, police said. It was sent from a listener in Pennsylvania who intended it as an ice-breaker to pitch a business venture.
Now that the false threat is over, Rush can sit back and soak in the fabulous views from his nearly $35,000,000 abode.
Overlooking the soft sands of 2.2 acres of private beach and beyond into the clear water of the Atlantic Ocean, the Limbaugh home is more of a cluster of houses than one huge mega-mansion. The main house is surrounded by four guest houses, with roof lines jutting up at different levels.
Article continues below advertisement
The gold-gilded main building boasts a bubbling fountain in the entry, and a large pool and putting green around the back so that guests can enjoy the year-round summer in Florida.
Lucky visitors to the estate, which spreads over 34,000 square feet, are no doubt picked up in one of Rush's fleet of black & white Maybach 57S limousines.
It's likely that Limbaugh could do with some peace and quiet right now. As RadarOnline.com previously reported, the 61-year-old is currently under fire for branding law student, Sandra Fluke, a "slut" and "a prostitute" for testifying before Congress last week in defense of birth control.
He later apologized, issuing a statement, saying, "In this instance, I chose the wrong words in my analogy of the situation. I did not mean a personal attack on Ms. Fluke." But the controversy refuses to die down.
As reported, sponsors, including ProFlowers, Carbonite, LegalZoom and Quicken Loans have been pulling their advertisements from Limbaugh's show in protest of his attack.
Photos of Limbaugh's estate are courtesy of Jeff Lichtenstein, marketing Singer Island condos, and Palm Beach real estate in Palm Beach, Florida.