Joan Rivers Accused Of Sexual Harassment, Of A female Employee!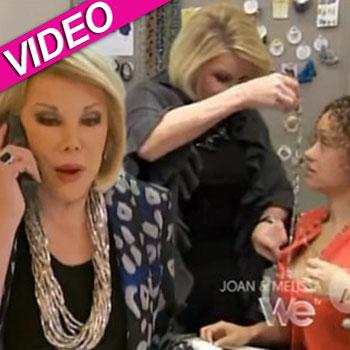 Joan Rivers might not be up for the Supreme Court, but you can add her to the list of famous people who've been accused of sexual harassment -- and it's all caught on tape!
Here's how it went down: The 78-year-old funny lady, on Tuesday's Joan & Melissa: Joan Knows Best, was in a meeting with staffers of her company Joan Rivers Worldwide, appraising various pieces of jewelry.
Scroll down for video!
Article continues below advertisement
She used one female worker as a live mannequin of sorts, getting hands-on and appraising the jewelry (and perhaps the employee, a tad too close for comfort).
Joan Rivers In Pretend Twitter War With Lindsay Lohan
"Peek-a-boo, look at you today," the raspy-voice septuagenarian told the employee (in reference to her breasts), who was noticeably uncomfortable during the segment.
The woman went on to report to a superior the incident in which she said Joan was "putting all the jewelry on me and pulling my sweater back and touching my breasts."
Joan Rivers Calls Michelle Obama 'Blackie O'
The workplace faux pas on Joan's part resulted in the entire company undergoing a sexual harassment seminar, and the woman decided to not further pursue the incident.
Joan & Melissa: Joan Knows Best airs on WE Tuesdays at 9/8c.