Exclusive
Joan Rivers Is A Porn Expert, Thanks To Daughter Melissa's XXX Boyfriend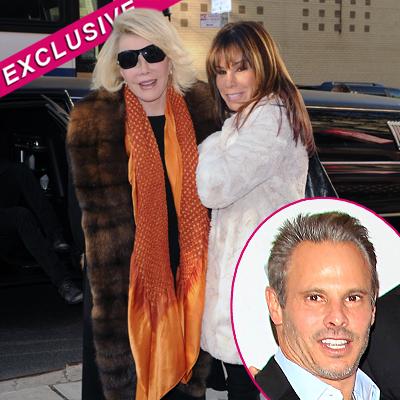 By Alexis Tereszcuk - Radar Senior Reporter
Joan Rivers is a big fan of her daughter Melissa Rivers' porn industry kingpin boyfriend, Vivid honcho Steve Hirsch, and she told RadarOnline.com exclusively why.
"I think it's wonderful because I know more about the porn business now," Joan explained. "I could tell you who buys, what it's about, what's the latest technology, and every friend of mine is getting a tickler for Christmas. Whether they want it or not."
Article continues below advertisement
The mother/daughter duo is starring in WE's hit reality show, Joan and Melissa: Joan Knows Best, and this season has shown the emotional split between Melissa and her last boyfriend, Jason Zimmerman, so in Tuesday's episode Joan tries to help out her daughter.
"Melissa has broken up with her boyfriend, and I'm worried that she needs to get away and rest and relax. I think I will take over the household, and I will do everything, and she can just go and get a spa day," Joan explains. "And do everything we always say will be wonderful for me to do, and in turn I start screwing everything up."
Entitled The Beaver, Melissa and Joan say that while the episode is called that because Joan is "busy as a beaver," there is a double entendre.
"As is everything in our lives," Joan joked.
But after having previously shown Joan smoking pot is there anything that can top that? Is there anything that the show won't be covering?
"After my breakup with Jason I didn't want to air me telling my son Cooper and Copper processing it," Melissa admitted.