Exclusive
Jenelle Evans Heading To Court For Allegedly Cyber Stalking Her Former Boss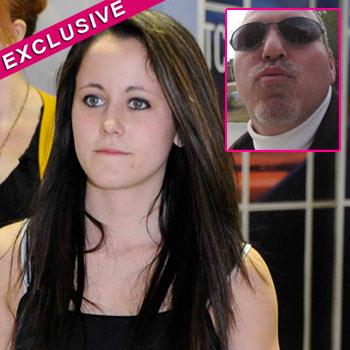 Troubled Teen Mom Jenelle Evans just can't seem to stop causing drama, and while her volatile lifestyle is great for the show's ratings, it's hard for everyone involved in her life.
Now Star magazine, via RadarOnline.com, is exclusively reporting that the reality star is about to be hauled into court yet again, this time on charges of cyber stalking after her former boss, James Duffy, filed court papers Friday in response to damaging comments she made about him on her Twitter, Facebook and various entertainment websites.
Article continues below advertisement
"The magistrate heard my story, saw my evidence and gave me a court date," Duffy exclusively told Star on Friday. "If proved, Cyber-stalking and harassment are criminal charges with penalties of up to 60 days in county jail," he went on to reveal.
"If you read the complaint, I believe everything in there leads to harassment and stalking, even when she sends others to do it," he claimed. "She created a hate page on Facebook called James Duffy is a creep. That alone is a criminal offense.
"I got a big lecture from the magistrate who is tired of filling out warrants on Jenelle. The court date is set for March 23."
March 23 is the same day Duffy and Jenelle were already due in court for the cyberstalking charges Jenelle previously filed against him, for allegedly posting her address and cell phone number online.
Information Duffy claims was old — as Jenelle had changed her phone number and moved before he posted them. He expects his lawyer — who ironically represented Jenelle's mother Barbara in their custody battle and had Jenelle sign over her paternal rights – to have those charges dropped.
Article continues below advertisement
Duffy says Jenelle is expected to be served over the weekend.
Evans temporarily worked for Duffy but quit her job after she claims that he made sexual advances to her — which he denies, explaining the two had a consensual sexual relationship. She also alleged that he posted scandalous pictures of her on Twitter showing her making out with her friend Victoria Rhyne at a party.
Another court date is nothing new for the 20-year-old North Carolina native, who was arrested in January in connection with "communicating threats" and making "harassing phone calls" to her one-time roommate Hannah Inman.
MORE ON:
Celebrity Justice
"Yes I was arrested again. It's okay, Hannah's just calling her own bluffs," Evans wrote on Facebook after the incident. "How can I harass u with phone calls when u clearly don't own a cell phone? I've dropped this argument weeks ago.
"Haven't been paying attention to u but u have the balls to tell yr little 'fans'.. 'imma f***ing kill that bitch' ?! How's sic threatening who here?!" wrote the sweet-talking single mom.
Article continues below advertisement
Inman has since dropped those charges and former roommate, Amber Lane, who filed similar charges, did not show up for their February court date.
Meanwhile, as RadarOnline.com previously reported, Evans is "devastated" after learning the truth about her young son's paternity, and all the drama will be documented on the upcoming season of her reality show.
Andrew Lewis is listed on the birth certificate as the father of Jenelle's baby, Jace, but she admitted that she cheated on him and was previously unsure who the father was, but now she's learned that he is in fact the dad.