Now That's What You Call A Wrong Turn! GPS Directs Japanese Tourists Straight Into The Ocean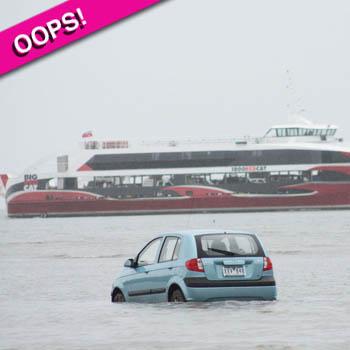 By Debbie Emery - RadarOnline.com Reporter
An unfortunate trio of Japanese tourists has learned never to trust technology after taking an unexpected dip during a vacation down under.
The holidaymakers were attempting to drive from Moreton Bay to North Stradbroke Island on Australia's Gold Coast Thursday morning and made the seemingly smart move of punching the destination into the GPS of their rental car, reported the Bayside Bulletin.
Article continues below advertisement
However, while the road looked clear on the map, the three students from Tokyo were caught unawares when the route sent them straight off shore and into the bay at Oyster Point where their trusty blue Hyundai Getz rental car promptly got stuck in a sticky mangrove mud.
The fast incoming tide quickly threatened to sweep the little car away and they were forced to abandon "ship," much to the amusement of onlookers on dry land and passing boats and ferries.
The GPS "told us we could drive down there," said 21-year-old Yuzu Noda. "It kept saying it would navigate us to a road. We got stuck . . . there's lots of mud."
Yuzu and her travel companions Tomonari Saeki, 22, and Keita Osada, 21, missed out on their fun day out on the island and instead got an embarrassing ride back to the Gold Coast from a RACQ tow truck driver, while the poor Hyundai got left in its watery grave.
Article continues below advertisement