Nahla Has A Swinging Good Time With Dad Gabriel Aubry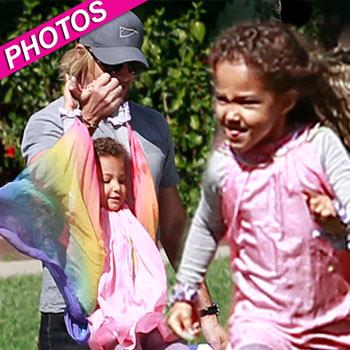 When you have an Academy Award winning actress as your mom and a model father it's not surprising that you always look picture perfect!
Little Nahla Aubry looked as adorable as ever Friday when she was snapped being picked up (quite literally) by her dad from school, and RadarOnline.com has the super cute photos.
Hunky Canadian born Gabriel Aubry was in a playful mood as he lifted up and swung around his daughter, who turns four this month, on their way to his waiting car.
Article continues below advertisement
Nahla was dressed in a colorful pastel rainbow dress and was clearly loving every minute of her daddy time, smiling and laughing as she whizzed around.
For his part, Gabriel looked his usual super hot self, dressed in a fitted gray T-shirt, black jeans and gray baseball cap.
The 36-year-old appears to be making the most of every minute he gets to spend with his only child as his bitter custody battle with her mom, Halle Berry prepares to ramp up once again.
As RadarOnline.com previously reported, it was announced Thursday that Berry has parted ways with her longtime attorney Neil Hersch in favor of legal pittbull Stephen Kolodny.
Berry is keen to move to France with her fiancé, actor, Olivier Martinez, and take Nahla with her, something Aubry is determined to prevent happening.
"Halle was unhappy that the family law judge hasn't made a ruling about her request to move to France," an insider told RadarOnline.com. "The judge has indicated that more time is needed and more information needs to be gathered before a ruling is made. This wasn't good enough for Halle, in Gabe's opinion, so she fired Neil Hersh, who is greatly respected, and hired Stephen Kolodny because he is known as a bulldozer.
MORE ON:
hollywood happenings
Article continues below advertisement
"Neither Gabe nor his lawyer are scared or intimidated by Stephen. Gabe thinks this will help his case, because he thinks it shows how desperate and impatient she is. He doesn't believe either that Halle is afraid for her safety, when was the last time you saw her taking Nahla to school with a bodyguard? He believes it's just another plot she is hatching to keep Gabriel out of Nahla's life."
A formal ruling on Halle's request to move to France could take up to a year, meanwhile, Gabriel is doing everything he can to be the best parent possible and to spend as much time as he is permitted with his daughter.