From Rapper To Restaurateur: Flavor Flav Opens Fried Chicken Joint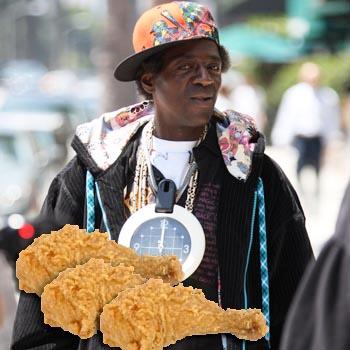 Article continues below advertisement
"My aspiration was definitely to be a chef," he tells the website about his pre Public Enemy career plans. "Back in the day when I was going to culinary school cooks were making very good money."
And Flavor Flav won't just be creating the recipes, he will actually be working hard and doing the dirty work in the kitchen!
"When y'all come out here or when people come out they will find me actually in the back cooking chicken and I'm going to be coming out serving my fans and my friends," he says.
When asked if his ex-girlfriend, model and actress Brigitte Nielsen, will be paying a visit to his new restaurant, the rapper only had kind words for his former lover.
"She's in Italy right now. She's married and I'm very happy for my friend," he gushes. "She's a very, very sweet and caring person. She's one of the nicest people that you'll ever want to know, man. You know and we're gonna be friends man, for the rest of our lives. But I'm proud of what she's doing with her family life right now and everything."