Bluegrass Legend And Banjo Master Earl Scruggs Dies At Age 88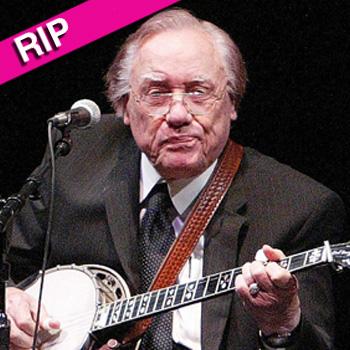 By Debbie Emery - RadarOnline.com Reporter
The man who helped create modern country music and made banjo playing popular across the world has died at age 88.
Earl Scruggs passed away from natural causes on Wednesday in a Nashville area hospital, leaving behind him a legacy of legendary bluegrass music and countless catchy tunes.
The North Carolina native is most famous for his recording of The Ballard of Jed Clampett, the theme song for The Beverly Hillbillies, which became an instant hit and was played at the beginning and end of every episode of the 1960s comedy.
Article continues below advertisement
Scruggs began his career in 1945 when he joined Bill Monroe's Blue Grass Boys, where he quickly popularized his syncopated, three-finger picking style. The banjo-playing genius went on to join creative forces with guitarist Lester Flatt, and the pair formed the Foggy Mountain Boys, which later became known as simply Flatt and Scruggs.
"It's not just bluegrass, it's American music," said bluegrass fan and country star Dierks Bentley, in a dedication to his string-bending hero, reported NBCChicago.com.
"There's 17- or 18-year-old kids turning on today's country music and hearing that banjo and they have no idea where that came from. That sound has probably always been there for them and they don't realize someone invented that three-finger roll style of playing. You hear it everywhere."
One of Scruggs' most famous performances was of his Grammy-winning hit Foggy Mountain Breakdown (which was immortalized in the movie Bonnie and Clyde) on November 15, 1969 at an open-air stage in Washington, D.C., at the Moratorium to End the War in Vietnam, when he became one of the few country musicians to support the anti-war movement.
Article continues below advertisement
Flatt and Scruggs were both inducted into the Country Music Hall Of Fame in 1985. In 2002, he won a second Grammy and the following year received a star on the Hollywood Walk Of Fame.
Just a day after his death, fans were already coming out in forces to record tributes on YouTube, while actor Steve Martin tweeted: "Earl Scruggs, the most important banjo player who ever lived, has passed on."
Earl's wife and manager, Louise, passed away in 2006 after a lengthy illness. The couple, who were married for 57 years, are survived by their two sons, Gary and Randy.