Adrienne Rich: Seven Things You Didn't Know About The Outspoken Late Poet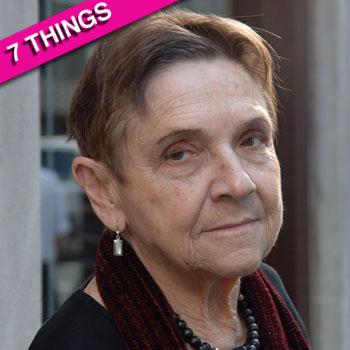 The world continues to mourn Adrienne Rich, the brilliant Baltimore-born poet who died Tuesday at 82 in her Santa Cruz, California home after a bout with rheumatoid arthritis.
"She was very courageous and very outspoken and very clear," according to her fellow poet W.S. Merwin, a Pulitzer Prize-winner. "She was a real original, and whatever she said came straight out of herself."
For those not familiar with the social crusader's work, we've decided to pay memoriam to her with a special Seven Things in which we'll celebrate the contributions, achievements and fingerprint she left in her eight-plus decades on the planet.
Article continues below advertisement
7. She was a hit on the charts: While her work was clearly motivated by politics -- not profit -- her work sold well. W.W. Norton, who published her writings, says Rich sold as many as 800,000 copies, a standout figure in the poetry world. Ironically, it's the award she refused to accept that gained her the most attention.
6. She had no time for the president: Rich passed on the National Medal of Arts in 1997, as she was disenchanted with the work and policies of then-President Bill Clinton. She said at the time, "I could not accept such an award from President Clinton or this White House because the very meaning of art, as I understand it, is incompatible with the cynical politics of this administration ... art means nothing if it simply decorates the dinner table of the power which holds it hostage." In a letter she penned to the president and his cabinet, she wrote, "The radical disparities of wealth and power in America are widening at a devastating rate. A president cannot meaningfully honor certain token artists while the people at large are so dishonored."
5. She was well honored for her work: Among the awards she received included: a National Book Award for her 1974 poetry compilation Diving into the Wreck, the National Book Critics Circle Award for 2004's The School Among the Ruins, the Bollingen Prize, Brandeis Creative Arts Medal, Ruth Lilly Poetry Prize, the Wallace Stevens Award, and many others.
4. She was a voice of valor: Rich's works were not for the shallow, conquering issues that were controversial for their era. Heavy issues she dug into via her poetry included the Vietnam war, women's rights, racism, economics and gay issues.
Article continues below advertisement
3. She passed on her passion: Rich taught at some of the country's most prestigious educational institutions, including Brandeis, Columbia, Cornell, Rutgers, San Jose State, Stanford, Swarthmore, and City University of New York.
2. She wrote more than just poetry: Rich's pen wasn't restricted to the genre she championed, as she also wrote a number of nonfiction works during her life. Among them -- 2001's Arts of the Possible: Essays and Conversations, 1993's What is Found There: Notebooks on Poetry and Politics and 1986's Of Woman Born: Motherhood as Experience and Institution.
1. Her personal life -- in the context of the times -- was as equally scintillating as her words: She married Harvard University educator Alfred Conrad in 1953, and bore three boys for him over the course of their 17 years together. Conrad fatally shot himself in 1970, the year she left him. She eventually settled into a same-sex relationship with partner Michelle Cliff, also a writer. She wrote in 1976, "The suppressed lesbian I had been carrying in me since adolescence began to stretch her limbs."