Celebrity Apprentice: Who Was Voted Off?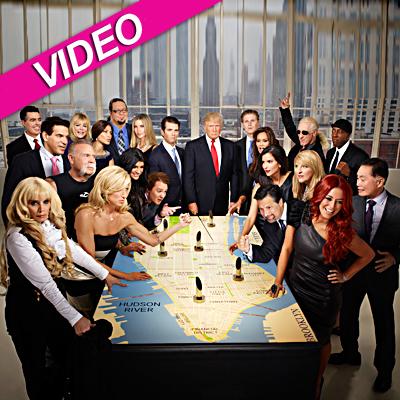 The episode's task was to launch two new flavors from Mocktails (a concoction from Crystal Light) with a bash and ad campaign.
With $50,000 on the line to the charity of the project manager's choice, Making the Band's Aubrey O'Day and singer Clay Aiken headed their squads into battle.
The chemistry on the women's team was shaky from the start, with a lack of communication standing out as one of their among their foremost liabilities. Model Patricia Velasquez said the nastiness put forth by O'Day and comic Lisa Lampanelli made for "the most damaging environment I've ever seen in human behavior in my entire life."
Article continues below advertisement
When it was party time, both teams had their share of success, though the women's side was hurt by a mishap in promoting the line -- Velasquez's responsibility in the project -- as the Crystal Light logo was too small to identify on the promotional signs.
The men threw a spirited bash, highlighted by a cameo from NBC's Hoda Kotb and Kathy Lee Gifford, and Aiken delivering a stirring cover of The Drifters' classic, Under the Boardwalk.
The team's solid chemistry and overall better presentation got them the week's win, and a $50,000 donation to the National Inclusion Project on Aiken's behalf.
With a spot on the women's team eliminated, project manager O'Day said ex-Miss Universe Dayana Mendoza's lack of creativity continually hurt the team, though Velasquez's error in making the sign -- and not getting it approved by O'Day -- was also worthy of termination.
Article continues below advertisement
Calling her "the most elegant lady," Trump then dropped his weekly bomb, telling Velasquez, "You're fired."
The remaining stars in the running for this year's crown are, in alphabetical order: Aiken, Incredible Hulk Lou Ferrigno, 80s sensation Debbie Gibson, Real Housewives of New Jersey star Teresa Guidice, 90s late-night host Arsenio Hall, comic Penn Jillette, Lampanelli, Mendoza, O'Day, American Chopper's Paul Teutal and Twisted Sister singer Dee Snider.