Humble Hunk: Brad Pitt Says He Gets 'Far Too Much Credit' For New Orleans Rebuilding Efforts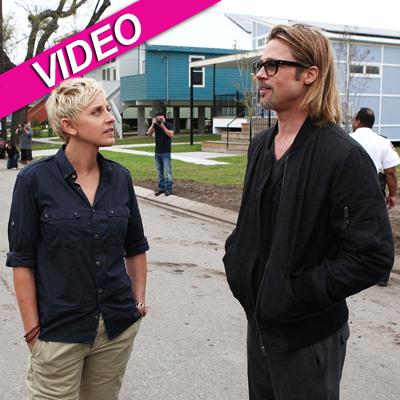 For his endless philanthropy toward the rebuilding of New Orleans since Hurricane Katrina, Brad Pitt is hailed by some as the city's foremost saint, but the A-list stud tells Ellen DeGeneres Tuesday that he's "getting far too much credit for" his efforts, as many have pitched in.
The Oscar-nominated Moneyball star, who established the Make it Right foundation following the 2005 calamity, spoke with Ellen on a stroll through the city's lower ninth ward, where a trail of followers -- grateful locals, snapping paparazzi and starstruck bystanders -- amassed, lending to the actor's messianic presence in the place he's been nothing less than a godsend to.
Article continues below advertisement
Pitt opened up about his love for The Big Easy, telling Ellen his love affair with the city began in the early 90s.
"And it was a bit of a blur because New Orleans will do that to you," joked Pitt. "I fell in love with the place: the people, the music. It's in the air. It's something you can't describe on camera."
"It's just got to make you feel so good that you're doing this and that everybody's saying, 'Thank you,'" Ellen told Pitt, who humbly replied, "I know but I'm getting far too much credit for this.
Watch the video on RadarOnline.com
"This took a lot of very smart people coming in and attacking the situation," the Interview with the Vampire star said. "It took the families determined to come back, and their resilience and they're defining what this thing was going to be -- I get far too much credit for bringing some really smart people together."
For more on Brad's amazing work in New Orleans, check out makeitrightnola.org.