Angelina Jolie Has Day Out With The Kids After Big Night Out With Brad Pitt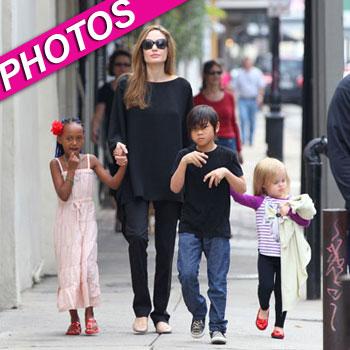 There's no rest for a mother of six. Just 12 hours after she escorted her mate Brad Pitt to a gala fundraiser for his Make It Right Foundation, Angelina Jolie was out in New Orleans running errands with daughters Zahara and Shiloh and son, Pax.
Zahara was pretty in pink for the outing, while Pax was spotted striking one of his favorite Karate Kid poses.
Saturday night, Brad and Angelina were front and center for the Night To Make It Right fundraiser for his Make It Right Foundation. Pitt's A-List pals including Ellen DeGeneres , Kanye West, Sheryl Crow and Rihanna performed.
Article continues below advertisement
Guests who paid between $1,000 and $2,500 to attend were treated to a dinner whipped up by New Orleans culinary heroes John Besh, Emeril Lagasse and Donald Link.
The money raised is going to help the Make It Right Foundation complete its promised 150 new homes in New Orleans' hard-hit Lower 9th Ward where 4,000 houses were destroyed when the levees broke during Hurricane Katrina.
RELATED STORIES: