Exclusive
Bobbi Kristina To Grandma Cissy Houston: I Don't Need Your Blessing To Marry!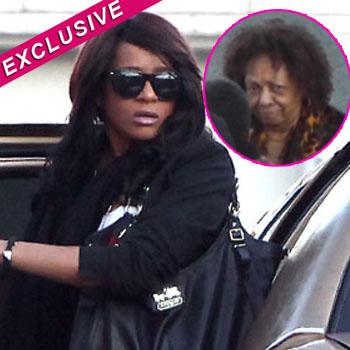 By Jen Heger - RadarOnline.com Legal Editor
Whitney Houston's teenage daughter, Bobbi Kristina, has told her grandmother, Cissy Houston, she will marry Nick Gordon, a longtime friend who's known as her 'adopted' brother, even though the matriarch of the family is vehemently opposed to the relationship, RadarOnline.com is exclusively reporting.
As Star magazine exclusively reported in this week's issue, just one month after Whitney's death, Bobbi Kristina, 19, secretly got engaged to Nick, 22, and she's recently been spotted wearing a diamond engagement ring.
Article continues below advertisement
Cissy Houston is "absolutely heartsick that Bobbi Kristina has gotten engaged. This reminds her of when Whitney married Bobby Brown, whom Cissy has never approved of. Cissy has conveyed to Krissy how upset she is, and has urged her to have a prolonged engagement. Krissy has told her grandmother that she doesn't need her blessing to marry Nick, and the more Cissy objects to the relationship, well that only cements Krissy's decision. It's just a very sad situation. Clearly, Krissy loves Nick, but she has just lost her mother, and her entire world has been turned upside down. Krissy doesn't think she needs to wait, and points to her mom's sudden death as the reason to marry Nick," a source close to the situation tells us.
"Nick proposed to Krissy on March 10, and she said yes," a family friend told Star. "Krissy said Nick is the only person she trusts in the world. They have a very deep connection," a family insider told Star via RadarOnline.com.
Bobbi Kristina lives with Nick in Whitney's $1.2 million Atlanta townhouse, and they call each other "brother" and "sister," says the source.
Although he was never adopted by Whitney, she took Nick in several years ago after his father went to prison and his mother was unable to care for him.
Article continues below advertisement
"Nick took care of Whitney and Kristina," his grandmother Maxine Gordon tells Star. "He's always been extremely protective of Kristina."
Bobbi Kristina has had several heated arguments with Cissy about the engagement, and the 19 year old has said "my mother would have approved of me marrying Nick, and I'm going to do it," the source says.
RELATED STORIES:
Whitney Houston's Boyfriend Ray J Seeking Counseling At Urging Of Sister Brandy