Nike Apologizes For Racially Offensive 'Black And Tan' Sneakers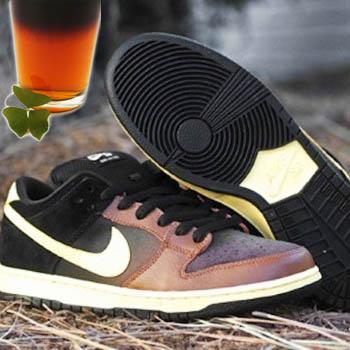 Trying to be on top of their game by releasing Irish themed sneakers running up to St. Patrick's Day backfired for sportswear giant Nike, and they are now apologizing for the racially offensive shoes.
The Nike SB Black and Tan Quickstrike were meant to be named after the popular Black and Tan drink, which is a boozy mix of stout and lager (usually Guinness and Harp or Bass), but Nike didn't realize that the term was originally coined for a British paramilitary group in the 1920s, known as the "Black & Tans," who became notorious for their brutal assaults on civilians during the Irish Revolution.
Article continues below advertisement
The guffaw caused an uproar among Irish groups as it reminds them of a dark time of suppression in the nation's history.
The name of the shoe "would be the American equivalent of calling a sneaker 'the Al Qaeda," revealed president of the Irish Lobby for Immigration Reform Ciaran Staunton, reported Yahoo News.
"Is there no one at Nike able to Google Black and Tan?" he asked.
Nike issued an immediate apology for their blunder, stating that "no offense was intended," explaining that the official name of the sneakers is 'Nike SB Dunk Low' and that the shoes were "unofficially named by some using a phrase that can be viewed as inappropriate and insensitive."
Brian Boyd of the Irish Times explained that it is not only inappropriate to use the idea of Irish drinking and violence to market a shoe (that has an image of a pint of beer inside it) but that you would never order a Black and Tan in Ireland — not only because of the terrible associations with the group, but because real Irish don't dilute their Guinness.
"It's how the Americans view Saint Patrick's Day and view Irish culture and history," said Boyd, according to Consumerist.com.
Article continues below advertisement
"And it's the very fact that some people are saying that these are beer-themed sneakers, that the only way to celebrate a national holiday of a country with a very rich culture and a very rich history and literature, et cetera, is to pour massive amounts of alcohol down your body."
This isn't the first time that a daring Nike marketing campaign has caused an accidental uproar. In 2006, Christian groups were offended by the image of a cross painted on the chest of English soccer star Wayne Rooney, saying it trivialized the sufferings of Christ.
Then in 2010, when public opinion was still very much against Tiger Woods following his cheating scandal, a 30-second black-and-white video ad was slammed for showing the shamed golfer with a melancholy expression and a voiceover from his deceased father, Earl asking: "I want to find out what your thinking was. I want to find out what your feelings are. And, did you learn anything?"
RELATED STORIES: