Bikini Model Busted For Allegedly Running Meth Ring Weeps As She Begs For Freedom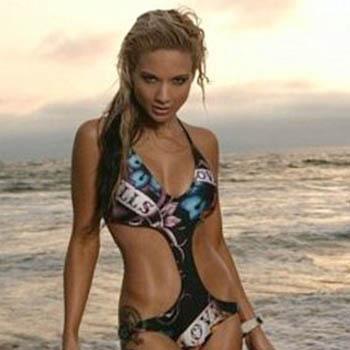 By Debbie Emery - RadarOnline.com Reporter
The Australian model and former Penthouse pet who allegedly ran an international drugs ring was distraught on Monday when she appeared in a Sydney court for the first time since going on the run from the police.
Looking tired and distressed in a hoodie with her long hair in braids, Simone Farrow, 37, broke down in tears during the hour-long hearing in the Supreme Court during which she heard an application from doctor Joseph Grech to withdraw his $100,000 surety bond, reported Australian newspaper The Sunday Telegraph.
Article continues below advertisement
The blonde glamour model appeared via a video feed from the Silverwater Women's Correctional Centre, where she has been detained since her arrest at a cheap hotel on the Gold Coast last week.
As RadarOnline.com previously reported, Farrow, who did numerous ads for the Ed Hardy line and was voted one of FHM's "sexiest women in the world," is accused of trafficking the drug meth in bags of bath salts from an elegant apartment just off famed Sunset Blvd. in Hollywood and police claim she has at least 19 aliases.
"I am a bit distressed," an overwhelmed Farrow told Justice Robert Hulme when he asked if she needed time to compose herself.
"I would like to have it put over for a week so I am able to find some more surety because I'm not really understanding what's going on and I feel like I was arrested and thrown in jail and everything has come at me at once," Farrow rambled.
"If I just had a few days to put this together and find representation and find a replacement in my surety . . ."
Article continues below advertisement
A bail of $50,000 had already been withdrawn by attorney Anthony Renshaw after Farrow skipped town three weeks ago, prompting the prosecution to oppose another application for bail.
Simone also made a failed plea to the judge to consider a suppression order of her name as she "didn't like" what was being reported.
As RadarOnline.com exclusively revealed, a close friend of Simone's claims she is being unfairly victimized by police and the media down under.
"There are people in Australia who did murders or armed robberies that don't get as much harassment as she has had," Simone's pal told RadarOnline.com in an exclusive interview. "It's not like she ran the whole deal, she wasn't a king pin. The punishment doesn't seem to fit the crime."
Farrow's friend went on say that at first he thought she was exaggerating the risk to her life, but he soon came to believe she was being threatened.
Article continues below advertisement