Alicia Silverstone Shows Her Bizarre Way Of Feeding Baby: Spitting Into His Mouth!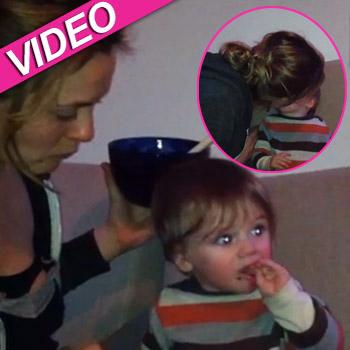 Alicia Silverstone and 10-month-old son Bear Blu are going viral in a YouTube video called "bear eating my mouth," in which Alicia chews up food and feeds the toddler mouth-to-mouth.
The star of Aerosmith's Cryin' video, Clueless and Batman and Robin wrote on her website, The Kind Life, "I just had a delicious breakfast of miso soup, collards and radish steamed and drizzled with flax oil, cast iron mochi with nori wrapped outside, and some grated daikon. Yum!"
Article continues below advertisement
"I fed Bear the mochi and a tiny bit of veggies from the soup ... from my mouth to his. It's his favorite ... and mine."
Alicia wrote on the website that the little boy has taken to the irreverent method of feeding.
"He literally crawls across the room to attack my mouth if I'm eating," Silverstone wrote. "This video was taken about a month or 2 ago when he was a bit wobbly. Now he is grabbing my mouth to get the food."
Bear Blu is the 35-year-old beauty's first child and celebrates his first birthday May 5. His daddy is S.T.U.N. frontman Christopher Jarecki.
Alicia's and Bear's video had more than 716,000 hits as of early Wednesday.
Watch the viral video below and tell us what you think of Alicia's feeding method in the comments: