Pass The Tofurkey! 10 Celebs Who Won't Be Eating Turkey This Thanksgiving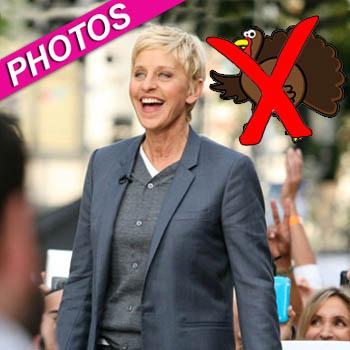 Turkey is synonymous with Thanksgiving, but a handful of Hollywood's finest choose to go without and RadarOnline.com has 10 celebs who go turkey-free, and their reasons why.
Perhaps one of turkey's most outspoken supporters is talk show host Ellen DeGeneres, who is also Farm Sanctuary's Adopt-A-Turkey Project's spokesperson.
"Did you know that every year between 250 and 300 million turkeys are bred for slaughter in The United States? More than 46 million for Thanksgiving alone," Ellen said.
Article continues below advertisement
"So, this Thanksgiving, instead of eating a turkey please join me in adopting one, from Farm Sanctuary's Adopt A Turkey Project and you can give a turkey something to be thankful for."
Actress Alicia Silverstone opts to go turkeyless too saying, "It's so simple to create a delicious holiday meal without animal cruelty. I promise no one will miss the turkey!"
Childhood actor and The Goonies star Corey Feldman urges people to go vegetarian this holiday season: "There are many ways of giving thanks. Eating turkeys doesn't have to be one of them. Healthy and delicious vegetarian options now make compassionate holidays easier than ever," he said. "This Thanksgiving, join with my family in starting a new tradition that celebrates life and promotes peace for all beings."
"Every living thing feels pain and should be protected from cruelty. Farm animals are no different," actress Kim Basinger said.
Ben Affleck's little brother Casey goes turkey-free saying, "I became a vegetarian because when I ate that way I felt better physically, and I couldn't stand the idea that I was, in some small way, supporting the extreme cruelty of factory farming."
"I like to stuff myself at Thanksgiving, not turkeys. Save a life this holiday season…adopt a turkey instead of eating one," Saturday Night Live alum Kevin Nealon advises.
Article continues below advertisement
"Our family holidays always include our animals. On Thanksgiving, we love to walk around our farm and visit with our rescued pigs, goats, horses, emus and many other rescued animals," ER actor Noah Wyle shares.
"We give them all special vegetables that day, and the whole family enjoys a vegetarian Thanksgiving dinner. We know that the animals are giving thanks that day, and we are also giving thanks for the joy they bring to our lives."
Radio host and 4-time NBA Champion John Salley points to the abuse turkeys endure saying: "Turkeys are among the most abused animals on earth. The horrors these smart, sensitive birds routinely endure behind closed doors on our nation's factory farms, all so that their tortured bodies can be the centerpiece of a holiday celebration about gratitude, are appalling and incongruent with most Americans' values of compassion."
Article continues below advertisement
And it seems The L Word actress Daniela Sea would rather hang out with turkeys than eat them. "If people knew how personable and fun to hang out with turkeys are and if they knew the horrors that turkeys on factory farms go through for their entire lives, I think fewer people would want to take part in supporting factory farming," she said.
"Honoring turkeys who have been abused by the system, as they embark on their new life on the sanctuary, is a great thing to do."
PETA Slams Former Sexiest Vegetarian Nominee Reese Witherspoon For Python Skin Purse
And Persia White, known for her long-running stint on the sitcom Girlfriends says choosing a vegetarian lifestyle and ending cruelty to animals is the right way to give thanks.
"Thanksgiving is a time to reflect and express our gratitude for all that we have to be thankful for. In the true spirit of this holiday, take a moment to think about the importance of all life," Persia says.
Article continues below advertisement
"By choosing a vegetarian diet, every one of us can take part in ending the cruelty animals endure on factory farms. Like cats and dogs, turkeys are intelligent, social, and sensitive beings who want to live. Give thanks this holiday and save a life."
How will you be spending your Thanksgiving -- with a big turkey, or without? Leave your comments below.
RELATED STORIES: