Reese Witherspoon Ditches Python Skin Purse Following PETA Complaint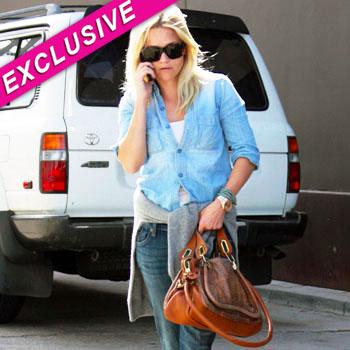 It's refreshing to hear that some celebrities listen to the voice of public opinion, especially when it comes to animal welfare.
Reese Witherspoon has decided to ditch her python skin purse after the cruel accessory sparked outrage from PETA, RadarOnline.com can exclusively report.
As RadarOnline.com was the first to report, the Water For Elephants star has been spotted several times carrying a Chloe Paraty python and leather purse, which she clearly didn't buy in California because the popular snakeskin has been banned from sales in the state since 1970.
Article continues below advertisement
Upon hearing the news from RadarOnline.com that Reese had the purse, the People for the Ethical Treatment of Animals rushed a copy of their video exposé of the exotic-skins industry to Witherspoon. The video was coincidentally hosted by her Walk the Line co-star, Joaquin Phoenix.
The graphic video describes how snakes and other reptiles are often skinned alive and how they suffer slow, painful deaths for the sake of fashion.
"Thankfully, Reese has just informed PETA that she will no longer carry the bag," PETA Media Officer Wendy Wegner told RadarOnline.com.
"We've long known Reese to be a kind person, so we're pleased - and not surprised - that she is hanging up her python bag for good," PETA Senior Vice President Lisa Lange went on to say.
"We hope Reese's honest mistake will serve as a reminder for all of us to be extra-certain that what we're buying is mock crock or fake snake."
Article continues below advertisement