Second Thoughts George? Clooney's Ex Elisabetta Canalis Goes Naked For PETA Ad!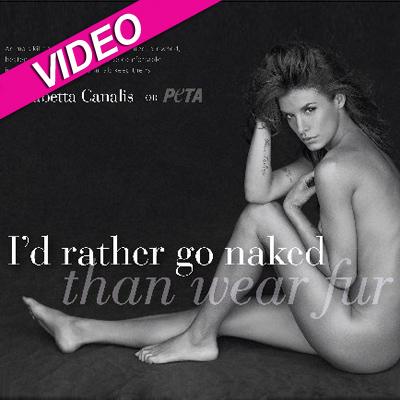 What better way to get back at an ex-boyfriend than to strip naked and show him exactly what he's missing out on!
George Clooney's ex Elisabetta Canalis is appearing in a new ad for PETA's "I'd rather go naked than wear fur" campaign and looks smokin' hot in her birthday suit.
The Italian model, who was dumped by Clooney in June after two years together, is appearing on this season of ABC's Dancing with the Stars.
Article continues below advertisement
With just her hands covering her ample assets, Elisabetta sizzles in the new campaign.
The 32-year-old says that her decision to pose nude for the famous campaign stems from watching a shocking documentary about animals being killed for fur as a child.
"I was a little girl but by that moment I thought that I would never, never, never, wear fur in my life," she said.
She admitted this week that she is using DWTS as a way to take her mind off of her break-up with George.
"Throwing myself into my work is the only way I can cope, it distracts me from all emotions," she told Italian magazine Chi this week.
"I'm a bit of a tomboy, but when it comes to love I am a doormat," she said. "I'm looking for men who can give me security."
Check out Elisabetta when the new season of Dancing with the Stars premieres on Monday, September 19 on ABC.