Whitney Houston's Dress, Earrings Going Up On The Auction Block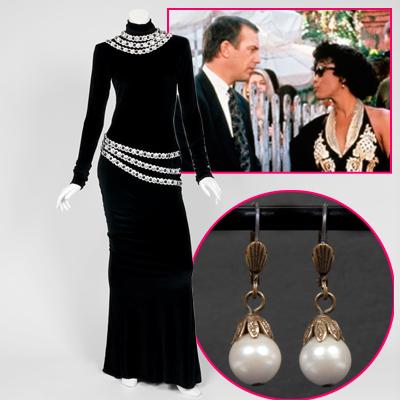 With nostalgia at an all-time high following her death at 48, Whitney Houston's black velvet dress, and a set of earrings she wore in The Bodyguard, are going up on the auction block.
Celebrity auctioneer Darren Julien told the AP the items became available in the wake of the singer's February 11 death in Beverly Hills.
"It proves a point that these items, they're an investment," Julien said. "You buy items just like a stock. Buy at the right time and sell at the right time, and they just increase in value."
Article continues below advertisement
With that said -- as we're just days removed from Houston's funera -- is it too soon to capitalize off the nostalgia boom?
"It's a celebration of her life," Julien said. "If you hide these things in fear that you're going to offend someone ... her life is to be celebrated. These items are historic now that she passed. They become a part of history. They should be in museums. She's lived a life and had a career that nobody else has ever had.
"For people who are fans of Whitney Houston and never would have had a chance to meet her and never got to talk to her, these are items that literally touched a part of her life. They are a way to relate to her or be a part of her life without having known her."
Fans can bid on the items online, by phone or in person via Julien's Auctions "Hollywood Legends" auction March 31 and April 1. Other items included in the auction include memorabilia linked to late icons such as Charlie Chaplin, Princess Diana and Clark Gable.