86-Year-Old Veteran Ignored After He Is Carjacked In Broad Daylight, 'People Just Kept Walking By'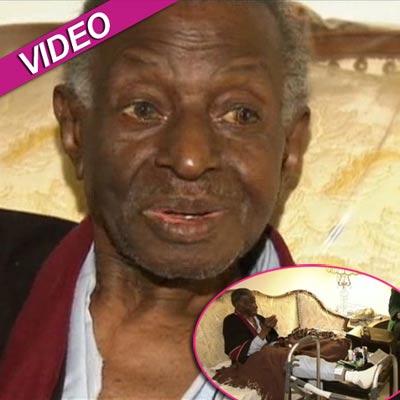 By Debbie Emery - Radar Reporter
An 86-year-old World War II veteran was carjacked in broad daylight in a busy Detroit gas station, and despite crawling on his hands and feet to safety no one came to his aid -- and RadarOnline.com has video of the shocking public neglect.
"I'm crawling and trying to get in the filling station. (People) just walking right by me and going on in the filling station there ... If I saw somebody crawling like that on the ground, I would have stopped myself," explained Aaron Brantley reported FoxNews.com.
Article continues below advertisement
The vicious attack occurred at 10:40 a.m. on Wednesday when Brantley was on his way home from bible study and a carjacker knocked him down, stole his keys and sped off in his 2010 Chrysler 200, which he recently bought to replace another car that had been stolen.
The elderly war vet's leg was broken in the ambush, he was too weak to even stagger into the gas station to alert someone and when he asked a woman for help he thought she was going to open the door for him, but then she just kept on walking.
"I was trying to go in ... and see if somebody could call the police and an ambulance because I couldn't stand. I had to crawl -- I tried two or three times to get up," he explained. "Any time a person is crawling on the ground, you know something happened to them."
From his post inside, manager Haissam Jaber claims he didn't see the attack at the gas station next to the University of Detroit Mercy but called 911 when he realized what had happened after a customer alerted him.
Article continues below advertisement
Brantley eventually found a good Samaritan when he offered a passerby money to drive him home, instead they kindly did it for free and an ambulance took him to the hospital from there.
Surveillance video from the gas station captured a potential suspect on tape however no arrests have been made. Brantley's car was found abandoned later in the day a few miles away with its radio and wheels missing, but the old man's bible with his name and number in it sat on the front seat.