Three's Company Stars Suzanne Somers & Joyce Dewitt Reunite For First Time Since 1981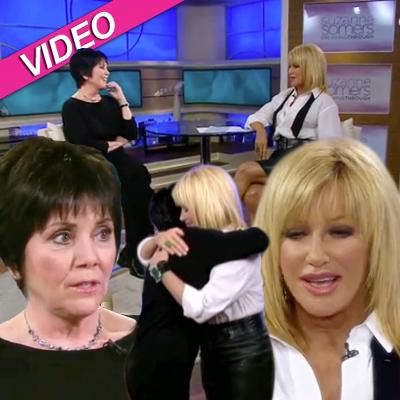 Come and knock on our door ...
More than thirty years after Suzanne Somers and Joyce Dewitt had an icy falling out, the former Three's Company stars reunited on the set of Somers' new web series Breaking Through, and we've got all the highlights for you here on RadarOnline.com.
"Oh my God. Holy cowski," Somers, who famously was fired from the show in a contract dispute in 1981, exclaimed as she saw DeWitt, who played Janet on the hit series. "I have to tell you right now, I'm very overwhelmed and emotional."
Article continues below advertisement
Somers, 65, told DeWitt, 62, she saw her leaving -- a much-maligned career move in later years -- as a business decision.
"In a group of serious actors, I probably pi**ed you all off," Somers told DeWitt. "And if I did, I'm really sorry. I just really needed money at the time."
DeWitt said she "didn't have a business head" at the time, "so I didn't understand someone who did."
The ladies also discussed their co-star: the late, great John Ritter, who abruptly died at 48 in September 2003 following an aortic dissection.
Watch the video on RadarOnline.com
Somers called Ritter "the greatest physical comic of our era.
"His legs were, like, made of rubber," Somers said, noting Ritter's body was often reacting to a joke before he'd spit out a response.
"He had a way of moving you around that, for me, made me more of a physical comic than I really was."
Fun fact: Priscilla Barnes replaced Somers on Three's Company.