Exclusive
Is 'The Situation' LuV'd By MENy?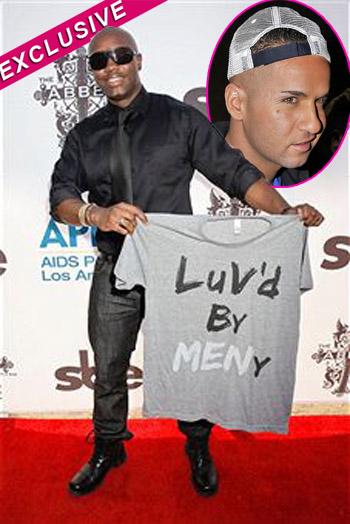 By Amber Goodhand - Radar Reporter
Abercrombie & Fitch didn't want Mike "The Situation" Sorrentino wearing their clothes, but RadarOnline.com has exclusively learned a West Hollywood-based clothing line is itching to get The Sitch in their brand!
"Mike has been portrayed as an unloved individual on recent episodes of the show, and therefore we would like to help him change his public image," DaMarcus Morton, owner of LuV'd By MENy said.
Article continues below advertisement
"Our shirts when worn, represent a clear message that the person wearing them is not only loved, but has a sense of love for everyone and everything around him, something Mike clearly is striving to achieve."
The company has already sent the Jersey Shore star a dozen complimentary shirts and told RadarOnline.com that for each one that The Situation is pictured in, LuV'd By MENy will donate various proceeds from sales to a charity of his choice.
It doesn't look like The Situation has problems being loved though, so much so that fellow Jersey Shore castmates Snooki and JWoww said they sometimes wonder if he swings both ways.
"His posture and the way he holds his cigarettes... everything. Listen, I know I keep talking about my best friend Joey, but his husband was closeted for 27 years of his life. And I knew him before he came out. So because of that I know... the signs," JWoww said.
Article continues below advertisement
"The Situation brings it up. He'll say, 'People think I'm gay and I don't know what they're talking about… I can't confirm or deny with Mike, but if he was, it would all make sense."
Snooki also chimed in saying, "He told me one time, 'All the talk is making me wonder.'"
As RadarOnline.com previously reported, Abercrombie & Fitch was upset that The Situation was spotted on the hit MTV show wearing their clothing so much.
"We believe this association is contrary to the aspirational nature of our brand, and may be distressing to many of our fans," the company said in a press release last August, adding they're "deeply concerned that Mr. Sorrentino's association with our brand could cause significant damage to our image."
Calling it a "Win-Win Situation," the company went on to say they've extended financial offers to The Sitch, the show's producers and other cast members to quit donning their threads.