Jersey Shore: Snooki Being Snooki; Huge Bomb To Drop Next Week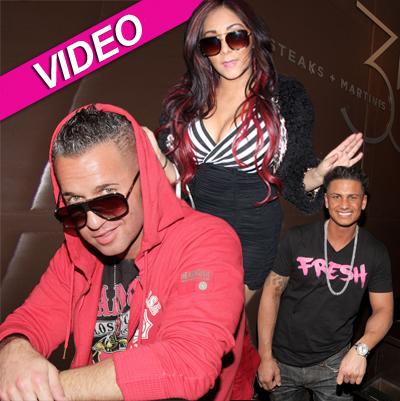 Thursday's Jersey Shore was the calm before the storm, as the episode nursed along some of the season's ongoing storylines while building up to what's expected to be an epic clash between Snooki and The Situation next week, over his longstanding claims she cheated on her current boyfriend Jionni with him.
Next week's drama simmering, Thursday's episode was a basic showcase of Snooki being Snooki, as the pint-sized media sensation was up to her usual party-fueled hijinks.
Article continues below advertisement
In one scene where the cast went fishing for crabs -- yes, they were quite aware of the double entendre -- the boys ribbed the girls that there were sharks in the water, with Snooki saying she didn't want to fall into "in the Pacific" Ocean. (Quick geography lesson for Snooki: the shore borders the Atlantic ocean.)
Snooki also brought out her alter ego Lolo, donning a gigantic bunny's head (synonymous with the Furries subculture), and hitting up Club Karma.
After the bar, Snooki, heading with Deena to the shore after hours, said, "We are running down the beach with the wind in our hair and boobies bouncing up and down -- the only difference between the meatballs and Baywatch right now are the red bathing suits and David Hasselhoff!"
Local police came to spoil the fun, however, as they escorted the tipsy ladies off the beach past curfew.
Deena, not wasting any opportunity to hook up, began flirting with the cop, asking him if he'd hold her hand.
Article continues below advertisement
"I think this friggin cop's cute and I'm like, I always love a man in uniform," the lesser-famous meatball cooed. "Maybe he can use his handcuffs on me later!"
Watch the video on RadarOnline.com
In another plot development Thursday, J-WOWW injected herself into the ongoing drama regarding Pauly D's stalker, confronting her about what was in her bag in an awkward dialogue that confirmed Pauly might want to get a restraining order.