Exclusive
Huge Sigh Of Relief! Lindsay Lohan's Neighbors Celebrating Her Move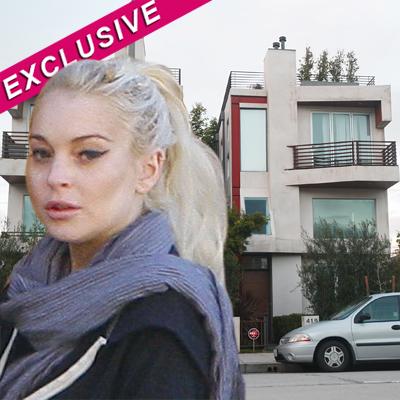 Venice Beach's loss is Hollywood's gain!
Lindsay Lohan's former Venice Beach neighbors are collectively letting out a huge sigh of relief since the drama riddled starlet has upped sticks and moved to the infamous Chateau Marmont in Los Angeles, RadarOnline.com is exclusively reporting.
As previously reported, Lohan is currently living for free at the famed hotel, and it's likely she won't be missed in her old neighborhood.
Article continues below advertisement
PHOTO: LiLo Attends Jay-Z Concert Night Before Court
"Everyone is ecstatic that she moved," one ex-neighbor told RadarOnline.com. "Goodbye to her and all her drama.
"Since she moved here it's been a complete circus with a revolving door of friends in and out of her house and paparazzi camped out permanently. Everyone was so sick of her and her constant attention seeking and mess ups."
Another neighbor echoed the sentiment: "Seriously, every time we heard a siren we hoped and prayed it was the police carting her off again and we would be left in peace.
"People move to Venice to get away from all the Hollywood bulls**t and everything that she represents, it was a nightmare when she was here.
"Sam Ronson has lived here for ages and she's never been any drama, she's very low key and just goes about her business, but Lohan was like a hurricane, or some other natural disaster tearing through the neighborhood.
"Good riddance to bad rubbish quite frankly."
Article continues below advertisement
Meanwhile, La Lohan appears to be back to her old tricks once again.
As RadarOnline.com previously reported, the oft-rehabbed Mean Girls star appeared to be under the influence when she was at the Chateau Marmont on Sunday night.
Lohan was with friends at her new home and was spotted going to the bathroom frequently with a male companion.
"Lindsay was spotted going to the restroom with a male companion on numerous occasions in a short amount of time," an eyewitness told RadarOnline.com. "When the two of them emerged from the bathroom, Lindsay was giggling and her nose appeared red. Lindsay was spotted only drinking water in the lounge area, but she appeared to be loaded on something, and she seemed under the influence. Lindsay's eyes were glassy and her pupils were constricted."
The Chateau Marmont shouldn't have too much trouble dealing with the 25-year-old actress though as they've had plenty of experience with famous party loving patrons in the past.
Courtney Love, Mick Jagger, Jim Morrison, Heath Ledger, Leonardo DiCaprio and John Lennon have all once called the Chateau home --  John Belushi overdosed and died there and legend has it that members of Led Zeppelin rode their motorbikes through the lobby one night.