Exclusive
Source: Lindsay Lohan & Siblings Being Harassed By Britney Spears' Ex-Manager Sam Lutfi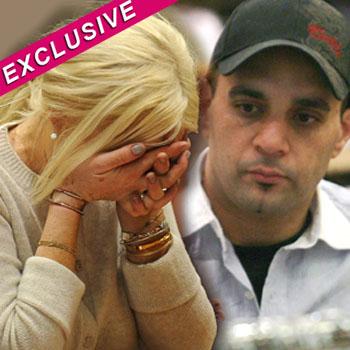 By Jen Heger - RadarOnline.com Legal Editor
Lindsay Lohan and her siblings are being harassed by Britney Spears' ex-manager, Sam Lutfi, according to a source close to the situation, RadarOnline.com is exclusively reporting.
Lutfi was Spears' controversial former manager at the height of her epic public meltdown when she lost custody of her children, Sean Preston and Jayden James to her ex-husband, Kevin Federline. Spears was twice committed to a hospital involuntarily while Lutfi was a major player in her life. Brit's dad, Jamie Spears, got conservatorship of her and obtained a restraining order prohibiting Lutfi from having any contact with her.
Article continues below advertisement
PHOTO: LiLo Attends Jay-Z Concert Night Before Court
Numerous text messages and emails have been sent from Lutfi to LiLo and her siblings in recent weeks.
"Sam is desperate to be in Lindsay's life and is telling anyone that will listen that he is helping with the actresses' comeback. This is absolutely false. Lindsay has a team in place consisting of an agent, manager and publicist. She doesn't want nor need Lutfi in any capacity. Sam has been texting and emailing Lindsay's siblings as well. Lindsay and her sister and brothers aren't responding to any communication from Sam," a source close to the situation tells us.
Lindsay's dad, Michael Lohan, is acquaintances with Lutfi. In 2010, Papa Lohan told us that, "I don't know what his deal is, but I told him, 'Don't you ever text my daughter again." Michael also said that Sam had texted Lindsay's older brother, Michael Jr., stating that "Dina was doing the wrong thing."
Negotiations are in the final stages for Lindsay to star in a Lifetime television movie about the late iconic actress Elizabeth Taylor and her Playboy magazine cover earned record sales. "Lindsay is telling her siblings to just ignore the texts and emails. They are considering changing their phone numbers," the insider says.
Article continues below advertisement
Sam's former roommate, Samuel Barth, and his family were forced to get restraining orders against him as well. Barth claimed Lutfi hacked into his Twitter and Facebook accounts, stalked and harassed him, his friends and family, and even tried to give his minor daughter a cell phone.
Lindsay's rep Steve Honig told us, "Lindsay has never spoken to Sam Lutfi, period."
Calls seeking comment to Lutfi weren't immediately returned.