Lindsay Lohan Staying At Chateau Marmont For Free!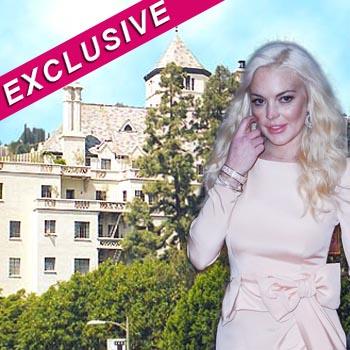 By Jen Heger - Radar Legal Editor
Lindsay Lohan has ditched her condo in trendy Venice Beach because of security concerns and she is currently residing in a room at the infamous Chateau Marmont in Los Angeles for free, RadarOnline.com is exclusively reporting.
The embattled actress,25, moved out of her beach residence because of several stalkers that have attempted to make contact with her.
LiLo has an artist friend who bought a room at the Chateau Marmont for a year, and he offered the room to her because he wasn't using it.
Article continues below advertisement
"Lindsay is currently living in a room at the Chateau and not in a bungalow. She has a very close friend that is an artist that has a room he occasionally uses at the hotel. He learned that she was moving out of her condo, and he offered her the room because he wasn't using it. This is a temporary situation for Lindsay right now. Lindsay's team is currently looking for a new residence in the area that would offer her more security, perhaps a house in a gated community or a condo," a source close to the actress says.
A standard room at the Chateau Marmont boasts 300 square feet, a queen sized bed and the standard rate is $435.
As RadarOnline.com previously reported, Linds appeared to be under the influence at the hotel on Sunday night.
"Lindsay was spotted going to the restroom with a male companion on numerous occasions in a short amount of time," an eyewitness told RadarOnline.com. "When the two of them emerged from the bathroom, Lindsay was giggling and her nose appeared red. Lindsay was spotted only drinking water in the lounge area, but she appeared to be loaded on something, and she seemed under the influence. Lindsay's eyes were glassy and her pupils were constricted."
Article continues below advertisement