LeAnn Rimes Breaks Down During Whitney Houston Tribute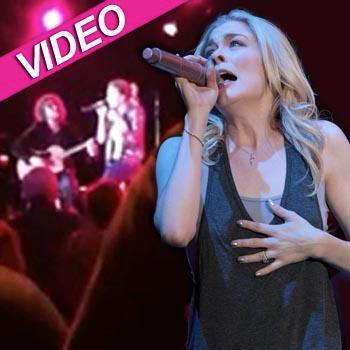 Article continues below advertisement
Also brought to tears was LeAnn, who broke down about halfway through, but recovered nicely to finish up the tribute.
"I can't stop crying. I have a show to do soon. Wow, I learned how to do what I do because of 3 great women, one being Whitney. She was always so kind to me," LeAnn tweeted on Saturday night.
"This is not gonna be an easy show for sure. I'm doing what she taught me to do by listening to her records over & over as a little girl. Her death is very surreal."
Jennifer Hudson also honored Whitney in a touching tribute on Sunday night at the Grammy Awards, singing I Will Always Love You.
"It was the greatest honor of my life to be able to be the one to pay tribute to Whitney's memory. It was from my heart," Jennifer said in a statement released to RadarOnline.com.
"I haven't stopped crying since she passed. Her family is in my prayers."