Lacrosse Murder Trial Resumes With Judge Scolding Defense Lawyers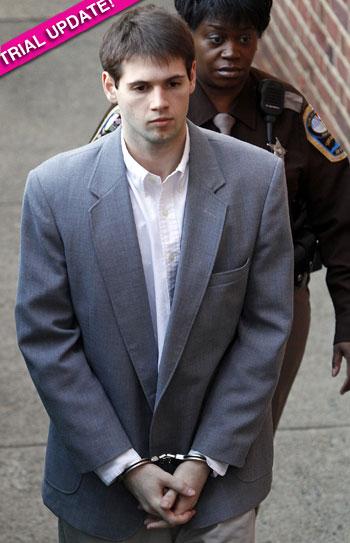 By Debbie Emery - Radar Reporter
Following a two-day delay because his attorney fell ill, the murder trial of lacrosse murder suspect George Huguely V resumed on Saturday with some hard words for the defense from the judge.
The trial was only expected to last two weeks, but now entering its 11th day and in session on a weekend, tensions were high as Prosecutor David Chapman made a motion to the judge to exclude the defense's upcoming medical witnesses from testifying because e-mails had violated the rule of law that prohibits witnesses from having any knowledge of previous testimony in the trial, reported WTVR.com.
Article continues below advertisement
As RadarOnline.com previously reported, the 24-year-old University of Virginia athlete is standing trial in the Charlottesville Circuit Courthouse charged with first degree murder in connection with the May 2010 death of ex-girlfriend, Yeardley Love, 22, who he allegedly beat to death after finding out she had slept with another man.
On Saturday, defense attorney Fran Lawrence argued that the mistake wouldn't affect a fair-trial. "We created this problem but now we have this young man on trial for his future," he told the judge but that didn't stop him from getting a tongue-lashing.
"This is very troublesome and I wouldn't have expected this from you," said Judge Edward Hogshire. "I'm very disappointed in counsel."
Hogshire ruled to limit the medical witness' testimony, including any mention of CPR. A big point of dissension so far between both sides has been whether resuscitation efforts could have caused damage to Love's brain.
Both Love and Huguely were seniors at the UVA and on the school's nationally ranked men's and women's lacrosse teams. They had been embroiled in a volcanic relationship that reportedly involved cheating and jealous outbursts on both sides, Radar reported.
Article continues below advertisement
Although Huguely was charged with first degree murder, along with five other charges, University of Virginia law professor Anne Coughlin told ABC News that she anticipates the judge will present the jurors with instructions that include a menu of options that include second-degree murder, involuntary manslaughter and voluntary manslaughter.
Based on what he is ultimately charged with, he faces anywhere from one year to life in prison.