Khloe Kardashian Breaks A Sex Swing In Season Premiere Of Khloe & Lamar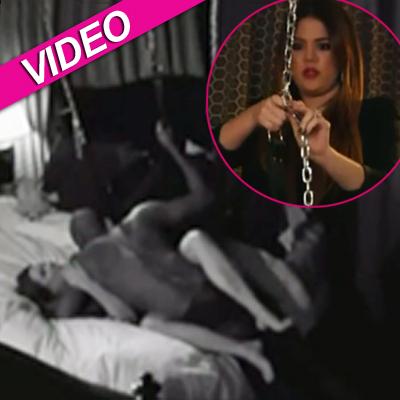 Trying to keep her sex life with husband Lamar Odom "spicy and new," Khloe Kardashian attempted to install and use a sex swing to hilarious results on Sunday's season premiere of Khloe & Lamar, and we've got all the details for you.
The episode was taped during last fall's NBA lockout -- prior to the Los Angeles Lakers shipping Lamar to the Dallas Mavericks -- and Khloe decided converting her brother Rob's old room into a sex den for she and Lamar would be a great way to occupy her husband's newfound free time.
Article continues below advertisement
The youngest of the reality TV trio of famous sisters cooed of her marriage to the NBA vet: "Our relationship is phenomenal. We're so in love with each other; he makes me feel so confident and sexy," she said. "I don't see why there has to be an ending to the honeymoon phase."
Kim Kardashian Reveals More Than Her Assets! 'Khloe Asked Me To Be Her Surrogate'
When Lamar and Khloe attempted to break in the swing, it broke, causing a sexy blooper.
Article continues below advertisement
Khloe said of her hubby: "Lamar and I have a passion for one another that doesn't necessarily have to be sexual. What we have is pure and it's always going to be there."
Khloe & Lamar airs Sundays on E! At 10/9c.
Ricky Gervais Skewers Jodie Foster, Kim K, Madonna & Justin Bieber At Golden Globe