Kevin Costner Picking Up His Music Career After Whitney Houston Funeral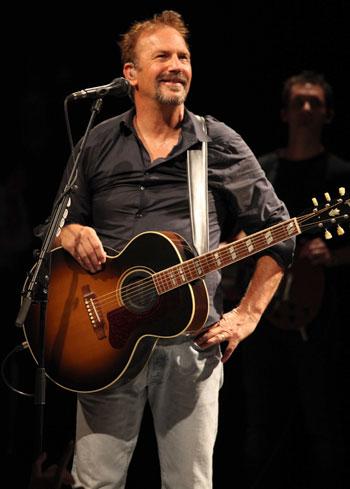 Kevin Costner is one of the stars who'll be participating in Whitney Houston's funeral today. He and his wife Christine were spotted as they arrived at JFK late last night.
The actor/producer made Houston a movie star when he cast her in The Bodyguard and it was his idea that she sing what turned out to be her iconic song, I Will Always Love You.
Coincidentally, now Costner is picking up on his his music career. Just weeks after Whitney's funeral, Costner and his cowboy band, Modern West, are heading back out on tour.
Article continues below advertisement
Costner co-founded the rock/country band after being encouraged by his wife, Christine, to reconnect with his music.
"I always thought that music could build a stronger, more personal moment with people. It could create an opportunity for genuine exchange much greater than a movie, TV interview or magazine. It would be real, full of mistakes and without apology. But most of all, there would be a chance to have some fun."
The tour kicks off March 28 in Lakeland, Florida and will hit Charleston, Annapolis, Nashville and New York through July 1.
I Will Always Love You is now one of the top songs on iTunes, and there's talk of doing a special 20th anniversary re-release of The Bodyguard.
REALATED STORIES:
Whitney Houston's Final Few Months: Binging On Booze, Pills & Cocaine