Man Collapses While Chowing On A Triple Bypass Burger At The Heart Attack Grill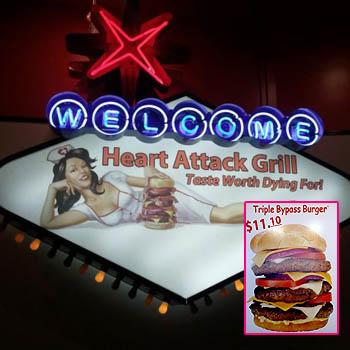 By Debbie Emery - RadarOnline.com Reporter
They certainly can't be accused of false advertising!
The Heart Attack Grill in Las Vegas certainly lived up to its name when a man suffered an apparent heart attack after eating the infamous 6,000-calorie Triple Bypass Burger, and RadarOnline.com has video of the ill-fated meal.
The gut-busting eatery makes no secret about how unhealthy their food is, and even warns customers about the dangers of their calorie-laden monstrosities with a sign that reads:
Article continues below advertisement
"This establishment is bad for your health."
In a video that has since gone viral, the tourist was eating at the Heart Attack Grill on Saturday night when he suddenly succumbed to the perils of his purchase and collapsed mid-meal from a suspected heart attack.
One of the waitresses -- conveniently nicknamed "nurses" by owner Jon Basso -- called 911 and the victim, who like every other diner was already wearing a hospital gown, was soon rushed to the hospital in an ambulance.
For most eateries that would be a disaster, but for one that so openly celebrates the health risks, many customers thought it was a publicity stunt.
"I had people ask me, 'Is this a stunt, do you do this on a regular basis? (I said,) 'No, it's not a stunt, this is for real, this man is sick,'" said waitress Tracy Chamberlin, reported CBSNews.com.
"I am nowhere near a nurse," said Tracy, who was happy to hand her customer over to the paramedics to treat. "I just play one when I come to work."
Article continues below advertisement
Basso has no regrets over the extreme way he markets his money-making restaurant. "I am here to tell you straight out I am here to make a buck," he said candidly, adding that other restaurants serve unhealthy food, but he is just more honest about it.
Simpson, an Ohio native, made a hefty living (no pun intended!) of $90,000 per year off a website in which fans paid a monthly fee to watch her consume more than 15,000 calories a day -- but after being dumped by her chubby chaser fiancé, whom she has labeled a "feeder" she's decided to start dieting.
"Who doesn't want to risk a little danger every once in a while. If I can put danger back into hamburgers, all the better," said 'Doctor' Basso.
"We throw slogans at you like, 'Taste worth dying for.'"
While the restaurateur sounds cynical, he did have some sympathetic words for the diner who succumbed to the temptations of the Triple Bypass.
"The gentleman could barely talk," he told Fox5 in Las Vegas. "He was sweating, suffering. Anyone with an ounce of compassion would've felt for him."
Article continues below advertisement
"I actually felt horrible for the gentleman because the tourists were taking photos of him as if it were some type of stunt. Even with our own morbid sense of humor, we would never pull a stunt like that."
The unnamed man is thought to be alive and recuperating, but reportedly didn't actually ever pay for his meal.
Meanwhile, the burger that landed him in hospital is still flying off the griddle. The one-and-a-half pound artery-clogger comes stacked with three burger patties, up to 15 strips of bacon, cheese, a special sauce, red onion and sliced tomato – all for the bargain price of $11.