Glee's Most Shocking Episode Ever!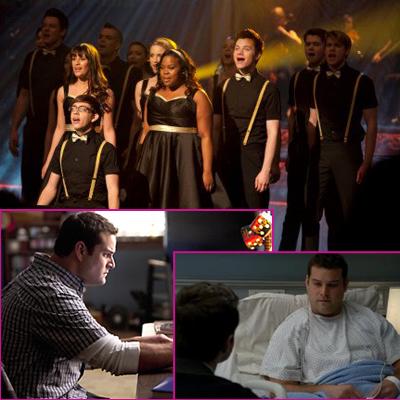 Tuesday night's Glee was without a doubt the show's most shocking episode yet: from the attempted suicide of a gay bullied teen -- to a rushed wedding -- to a surprise pregnancy -- to a serious car wreck caused by texting and driving.
In the midst of all that drama, most of the episode focused on the outing and public humiliation of Dave Karofsky, the closeted thug football player played by Max Adler.
Article continues below advertisement
In the episode, Karofsky -- who last season transferred to a new high school after repeatedly taunting openly gay Kurt (played by Chris Colfer) -- is outed by his teammates who not only write 'f*g' on his locker, but mock him on Facebook.
VIDEO: Glee's 'Never Been Kissed' Shocker!
In November, 2010, RadarOnline.com first talked to Adler about his role on Glee and specifically the episode titled, Never Been Kissed, in which we first learned that he was gay.
Flash forward now to Tuesday's episode. In one dramatic and heartbreaking scene, we see a distraught Karosky -- still struggling with his sexuality -- putting on a suit and attempting to hang himself. We later find out he survived his suicide attempt.
In an interview with E!, Adler talked about the show's controversial storyline. "I was incredibly happy that the writers and producers chose to go there, and I said that to them, 'It's so brave and honest, and you're really treating this character with the integrity that he deserves,'" he said.
Article continues below advertisement
"I felt like to not show the struggle and to have him just kind of flip over and be nice and be happy, I just felt like it wouldn't have done it the proper justice and it wouldn't have been treated with the honesty that it deserves. So I was incredibly happy that they decided to kind of push the envelope and go there because I feel like the message that results out of that in the end is one of hope and optimism," Adler added.
In that vein, RadarOnline.com has been chronicling the journey of L.A. Independent filmmaking Elliot London, who's launch an on-line campaign to raise money to fund a full length feature film called FRIEND, which tells the story of a gay bullied teen in this age of Facebook and Twitter.
Glee Star Mark Salling Releases Album, Hidden Track On Facebook
Click here to see London's 3-minute short, The Wedding Dance, a story about marriage equality, and to find out how you can support FRIEND.
Article continues below advertisement
The other shocking moment on Glee happened in the show's final moments as Quinn, played by Dianna Agron, is rushing to Finn and Rachel's quickie wedding and, in a moment when she looks down while texting and driving, her car is smashed into by a truck.
Oh yeah, we also learned Coach Sylvester is pregnant!
Glee is on winter break now, and the fourth season is expected to premiere in May.
RELATED STORIES: