Diddy Remembers Whitney Houston, Says He Was At Her '92 Wedding (Before He Was Famous)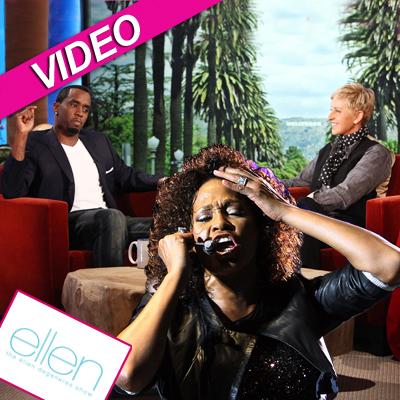 Sean "Diddy" Combs shares one of his favorite Whitney Houston memories on Thursday's edition of The Ellen DeGeneres Show, as he admits to hustling his name onto the guest list to her 1992 wedding to Bobby Brown, five years prior to achieving fame by reaching the top of the charts with his hit singles Can't Nobody Hold Me Down and I'll Be Missing You.
"I know that you were one of the first at Clive Davis's party to speak about Whitney's passing the other day," Ellen told the rap mogul. "Did you know her well?"
Article continues below advertisement
"Yes, I did: I actually when I was growing up in the music industry before I had success, I somehow got on her wedding invitation," he remembered. "So I was at her wedding, but I didn't really know her, but it was one of the hottest things in town for the music industry.
The 42-year-old New York native said he was not a wedding crasher, but rather hustled his name onto the guest list.
"I got my name on there -- me, plus one. I was just like, 'Oh my God!' I'm at Whitney Houston's wedding," he said. "I was a big Bobby Brown fan. Throughout the years, I got to meet her. She was so full of life. So full of just joy. She always made you feel that she noticed you and recognized you and spoke to you.
"She'll definitely, truly be missed."
Ellen agreed, adding she felt the I Have Nothing singer "was an amazing talent, and it's heartbreaking, really -- it's very, very sad."
Watch the video on RadarOnline.com
As RadarOnline.com previously reported, Houston was found dead Saturday at the Beverly Hills Hilton at 48.
Davis's party caused a minor controversy, as Houston's family is upset with the music producer for going on with his pre-Grammy bash while Houston's "body was lying in a room upstairs, dead, for heaven's sake," a source told us.
Article continues below advertisement