Derek Hough & Mark Ballas Slam Dance Moms' Abby Lee Miller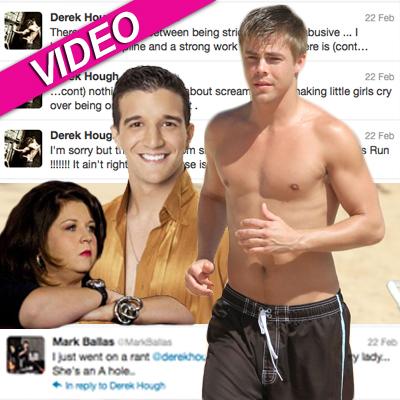 Dancing with the Stars pros Derek Hough and Mark Ballas have seen enough of Dance Moms.
Both of the ballroom experts took to Twitter Wednesday, absolutely horrified by what they saw on the Lifetime reality show, which is garnering controversy over the drill sergeant techniques employed by leader Abby Lee Miller on the 6- to 13-year-old girls who train at her Abby Lee Dance Company in Pittsburgh.
Article continues below advertisement
Yelling, screaming, chastising is all par for the course for Miller -- not to mention whacks from a foam baseball bat, when one of her students is out of step.
It's Over! Mark Ballas & Pia Toscano Split
"I'm sorry, but this 'Dance Mom' show is straight up abusive. … Kids Run!!!!!!!" Hough tweeted. "It ain't right. Child abuse isn't right. I'm livid right now. … I believe in discipline and a strong work ethic.
"But there is nothing productive about screaming and making little girls cry over being on the wrong foot."
Ricki Lake Has Danced Off 13 Inches On The 'Derek Hough Diet'
Ballas -- calling the show "embarrassing" for the dance community -- wrote of Miller, "This teacher lady is crazy … completely wrong attitude toward the kids."
Ballas added for good measure, "She's an A Hole ..."
Miller appeared on The View Monday to justify her no-nonsense approach.
Article continues below advertisement