Ricki Lake Has Danced Off 13 Inches On The 'Derek Hough Diet'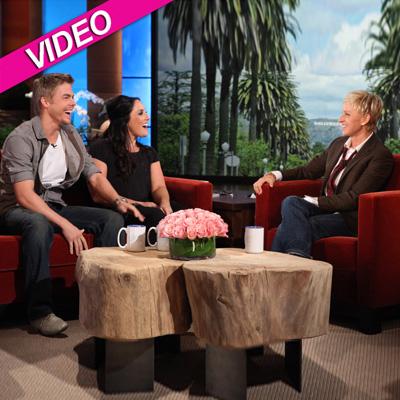 Dancing with the Stars contestant Ricki Lake has been getting great numbers lately -- both on the judges' placards and her bathroom scale!
The (original) Hairspray star appears on Thursday's edition of Ellen with her pro partner, Derek Hough to talk about her recent hot streak on both fronts.
Ellen DeGeneres told the slimmed-down, 43-year-old actress/talk show host: "I think you look great. I haven't seen you in a while, but I read that you're losing inches."
Article continues below advertisement
"I lost more than 13 inches in a month -- it's crazy," Lake told her. "The Derek Hough diet is the best: I lost 5 inches in my waist, 5 inches in my hips ... it's hardcore."
Returning the goodwill, Lake brought up how she thought Ellen was "amazing" in her performance on So You Think You Can Dance.
"Well, I just did it once, but to do it every single week," Ellen told Lake. "It is really hard work."
Watch the video on RadarOnline.com
"They prepare us," said Lake, who's engaged to Christian Evans. "They say it's the hardest thing you will ever do and you're like, 'Yeah, yeah, yeah. I've done hard.'
"We work out all day long ... we are sweating all over each other ... a lot of people would feel that I'm very lucky to be in this position, but it's hard work and very fulfilling."
We'll see if Lake's hot streak continues when Dancing with the Stars returns on ABC Monday at 8/7c.