Exclusive
Nancy Grace's DWTS Partner Tristan MacManus Said He Didn't Even Notice Her Nipple Slip!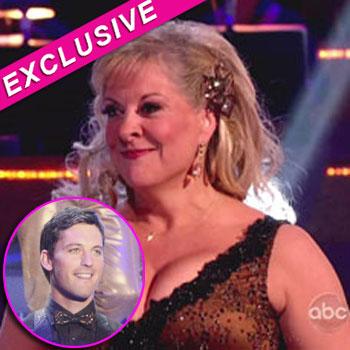 The biggest story from the second episode of Dancing with the Stars wasn't any of the celebrities' hot moves or Chaz Bono's low score, but the dramatic revealing of Nancy Grace's nipple.
The unexpected - and thankfully brief - nip-slip during the Headline News anchor's quickstep on Monday night was so fast that her partner didn't even see it!
"I didn't even notice, and I was closer to it than anyone," Grace's partner, Tristan MacManus told RadarOnline.com in an exclusive interview on Tuesday. "I wasn't aware that anything even happened or know how much came out.
Article continues below advertisement
"Apparently the top of her dress slipped down, but the producers were really quick to amend it," explained the professional dancer from Dublin, Ireland.
In fact, ABC were so fast to cover up the wardrobe malfunction that viewers on the West Coast didn't even see it as the entire incident was edited out by the time the show hit the airways over there.
"If it happened it happened, we don't intentionally try and offend people," MacManus told RadarOnline.com. "There is always chance of it.
"It's a live show and anything can happen, we've done dress rehearsals in those clothes and nothing happened. Anything can go wrong whether it is with the dress, the hair or the dance - you just get over it and move on."
Rather than worry about the nipple flash, the tough as nails news veteran just focused on nailing her quickstep. "She took it in her stride and was a good sport," said Tristan. "She was happy with the performance and I just wanted her to focus on that. Anything else is irrelevant."
Article continues below advertisement
As for his thoughts on the rest of his first season on DWTS, "Everything is going super! We're getting there. Hopefully the results will go well tonight," he replied optimistically.
"Last week we managed to scrape through - the performance was better this week but it's out of our hands now and you just don't know. You just have to dance and go from week to week."
While new dancer Nancy was nervous during her debut on the show, Tristan said she's getting her mojo now and feeling more confident.
"The more time you spend on the floor, the more you handle the nerves. When you get low marks in the first week it's easy to get disheartened. We want to take the high marks and focus on that."
As for who he was most impressed with from the competition, Tristan said diplomatically: "Everyone was great – J.R. Martinez was super, Ricki Lake did a great job, and David Arquette was as entertaining as ever.