Tweeting With The Stars! The Contestants Go from the Dance Floor to Twitter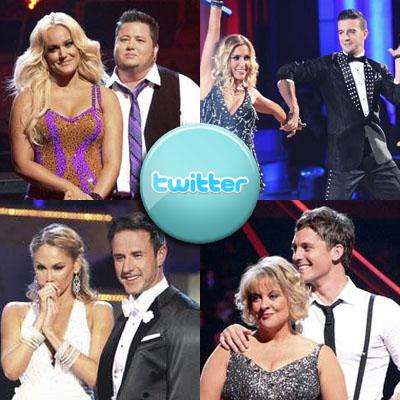 The Dancing With the Stars contestants barely had time to get their dancing shoes off after Tuesday night's results show before they were back online and tweeting about their experiences.
While the first star to be booted, Metta World Peace -- formerly known as Ron Artest -- kept quiet, the remaining cast members were gushing with excitement and support for their reality competition rivals.
Article continues below advertisement
"THANK YOU! We made it!! Because of you! And my lucky charm," wrote CNN host Nancy Grace, referring to her sexy Irish partner, Tristan MacMillan.
Modest David Arquette couldn't stop singing the praises of the other contestants instead of blowing his own horn.
"Thanks guys. I'm a huge fan of Chaz and Lacey as well," wrote Arquette, who admitted he'd voted for Iraq war veteran J.R. Martinez. "Thanks! I used mine on JR so it all evened out. Thanks for the support."
Having announced on the show that he is eight months sober, Arquette is certainly focused on the prize and not taking any time off before getting back to work for next week.
"Got a 6am rehearsal with Kym The Great. Gonna stick this Jive - No joke."
Former Laguna Beach star Kristin Cavallari opted for an early night too. "The past 2 days have been so fun but its time for bed. Gotta hit it hard tomorrow. Night everyone xo thx again for all the votes," wrote the pretty blonde.
Article continues below advertisement
Bit other contestants decided that surviving the first cut was a good excuse to go out and celebrate.
"The show was awesome! Thanks to you all who vote and keep voting please! West Coast!!! Time to eat!!! Mastros baby!" tweeted Rob Kardashian, whose big sister Kim said she voted for him 75 times!
Ricki Lake wasn't going to rely on other people voting for her and admitted she'd dialed her own numbers. "Not embarrassed to admit it, I'm voting for myself."
Carson Kressley gave a shout out to Chaz Bono via the transgender star's mom, Cher - while plugging himself too! "@cher I know you were proud of chaz! We all are! How bout my Jagger moves?"
Cher Slams 'Bigots' Who Are Attacking Her Son Chaz Bono
Meanwhile, Chaz seemed overwhelmed with relief to have survived the first round, tweeting:
"I had such a blast last night dancing with the beautiful @LaceySchwimmer. I was pretty nervous, but felt good as soon as we began dancing," he wrote.