Nancy Grace: 'I Firmly Deny The Alleged Nip Slip'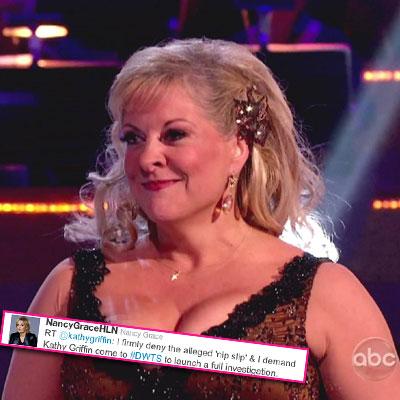 From O.J. to Casey, Nancy Grace has never shied away from controversy; Now, she's got a small one of her own brewing.
Grace -- in response to her wardrobe malfunction on Monday's edition of Dancing with the Stars -- tweeted to comic Kathy Griffin Tuesday: "I firmly deny the alleged 'nip slip' & I demand Kathy Griffin come to #DWTS to launch a full investigation.
"I will voluntarily provide YOU access to my industrial strength bra."
Article continues below advertisement
The incident aired on the live East Coast edition of the show, but was edited out for the tape delayed West Coast version. After the routine, an embarrassed Grace buried her face in her partner's shoulder.
Host Tom Bergeron didn't ignore what had happened, saying that "on the European version, that would be perfectly fine!"
Bruno Tonioli couldn't resist doing the same.
"Nancy, vivacious, alive, and confident -- it was a bit top-heavy at times, my darling," the inimitable judge told the legal pundit. "And I got an eyeful! I couldn't miss that -- but it really is great to see you taking over the dance floor and performing."